In this article, you'll discover how five businesses are using Instagram Stories and how you can create similar content. #1: Show a "Day in the Life" of Your Business You can use both still photographs and videos to create Instagram stories. Takeaway: Content has come a long way and there are now multiple ways to display information beyond a simple blog post. The story piqued their Instagram audience's interest and directed people to visit Facebook to view the whole video. Takeaway: If people like your Instagram content, they'll probably like your Facebook content as well. Viewers can see the product in action and get a novel idea for how to use it. Vitamix shows off their product and shares a recipe idea in an Instagram story. Create a story like Southwest did to highlight your company occasion and look back on all of the great things your company has accomplished. Take a tip from Southwest and add variety to the story by interviewing customers or employees about their best company memories. Do you have any other great examples of businesses using Instagram Stories?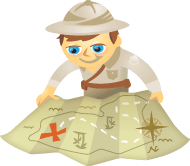 Are you looking for ways to use Instagram Stories?
Want to know what's working for other businesses?
The videos, pictures, and text in Instagram stories help pique
your followers' interest on an authentic and personal level.
In this article, you'll discover how five businesses are
using Instagram Stories and how you can create similar
content.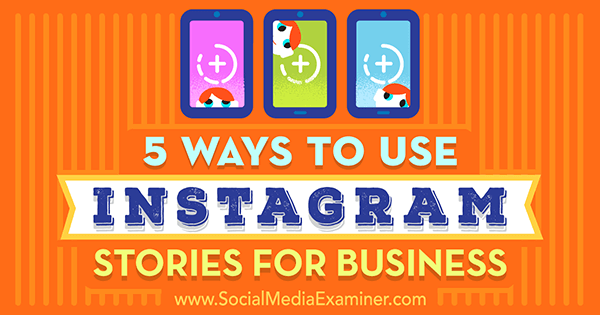 You can use both still photographs and videos to

create Instagram stories. Your videos don't have to be
anything spectacular. In fact, videos can be a great way to show
your audience a unique view of the day-to-day happenings at your
business.
New York City restaurant Union Fare uses
Instagram Stories to share video from their restaurant's operations
using informal captions. The videos give viewers an inside look at
the restaurant and some of the delicious food on their menu. If a
hungry viewer happens upon these videos at lunchtime, you better
believe they'll think about heading there for some grub.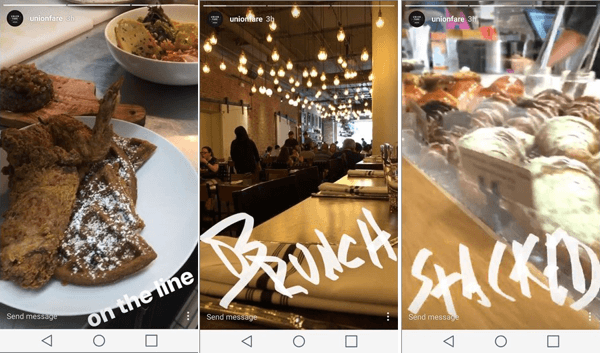 Capturing video in Instagram Stories is simple. After you
navigate to the main Instagram Stories screen, hold down
on the middle button at the bottom of the screen to take a
video (tap to take a picture).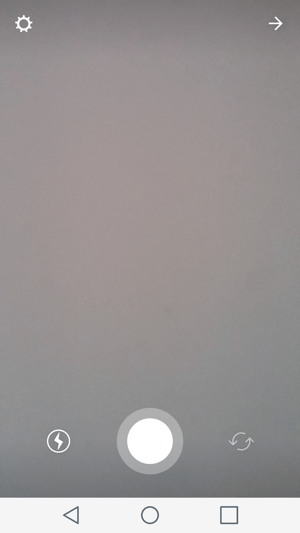 After you create it, simply upload the video to your
story with or without a caption. You can draw text
onto an image or video, or simply type it in. This is an
opportunity to be creative and make the experience
more interactive.
Takeaway: One of the best things about sharing
video with Instagram Stories is that you can do it quickly and
spontaneously. While you can put a lot of planning into your
videos, sometimes a simple snippet of daily life can be very
effective in promoting your brand.
#2: Turn Your Blog Content Into Mini-articles
Looking for a new way to display your editorial content? Use
Instagram Stories to put together short how-to articles on just
about any topic. Many Instagram users are looking for cooking and
decorating ideas and other household topics, and Instagram Stories
lets you share this kind of information in an interesting,
digestible format.
Real Simple,
a popular lifestyle magazine, publishes condensed versions of their
online content with Instagram Stories. These mini-articles convey
useful information without being difficult to absorb, and at the
end of the story, people are directed to the Real Simple
website.
To create a similar story for your business, first take a
look at the content you publish on your
blog. Chances are you'll find an article that you
could easily break down into a few slides to display
visually. For example, if you're a contractor, you could easily
translate an article on trends in home improvement into a story
like the one shown below.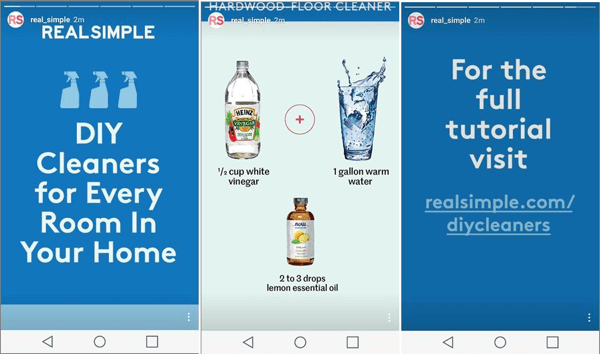 After you choose a topic, use your graphic
design software of choice to create the images and
then upload the images in sequence to create your
story. If you want to create a story similar to what Real
Simple did here, include a cover page with an engaging
image and a conclusion image with a call to action and a
URL that people can visit for more information.
Of course, you're creating a story like this to engage your
audience, so once you have their attention, it's important to
close with a directive that lets them know what to do
next. Without that…