Source: Neil Patel If you've visited my homepage recently, you've probably seen and heard me talking. To be honest, I try to avoid visiting my own
If you've visited my homepage recently, you've probably seen and heard me talking.
To be honest, I try to avoid visiting my own home page, because I can't stand watching myself on video!
So why am I keeping that video there?
Simple: The thing converts like crazy!
Obviously, there are a few things going on. There are some urgency signals.

There are some big orange CTA buttons.
There are some clear step-by-step instructions.
But the main thing about that page is the video.
Just one video!
My video landing page is the highest converting page I've ever had, bar none.
Ever since I started using that video on the homepage, my conversions took a noticeable upturn, and haven't slowed a bit!
In this article, I'm going to show you some of the principles that I've learned as I've split test my videos, tweaked my home page, and watched the conversions pour in.
And, just to up the ante, consider how much time and money you're wasting with a low-converting landing page.
Every precious minute you spend staring at your landing page and praying that visitors decide to sign up could mean lost revenue.
Looking at the statistics, it could be frustrating to learn that only 22% of businesses today are actually satisfied with their conversion rates.
That means 78% of businesses feel like their conversion rates suck. And they're probably right!
Why? Because on average, for every $92 you spend to attract customers, only $1 is spent to convert them.
No matter how much we deny it, most online users nowadays no longer have the patience to read through all the things we write down.
According to Statistic Brain, the average attention span is now down to a ridiculous 8.25 seconds. Apparently, it's been dropping over the past few years.
Statistic Brain also shared that only 4% of pageviews get more than 10 minutes of attention from users online.
So, is there even hope?
Yes. You probably see where I'm going with this.
In the same report from Statistic Brain, we found that the average length of an Internet video watched by users lasts 2.7 minutes.

Two statistics. One very important truth. This is it: Even though people have tiny attention spans, they have a major appetite for video viewing.
Let me throw some more stats your way so you really get the message.
92% of mobile video consumers share videos with others. That, my friends, is what we call virality!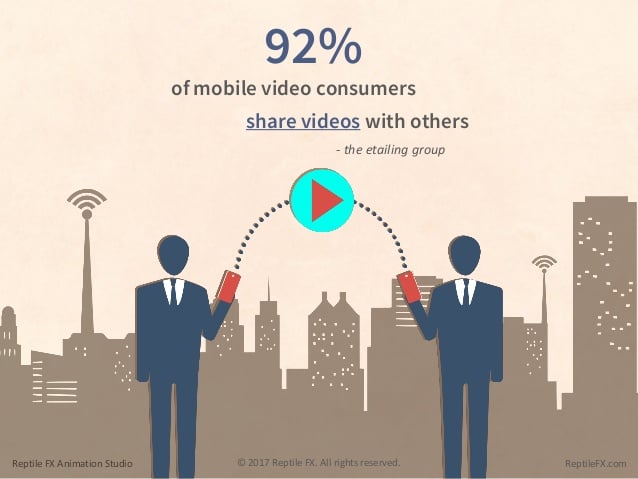 It gets better.
Studies show that 95% of viewers actually absorb the messages of the videos they watch. Remember what I said earlier about the average video length per user? That's right!
You have 2.7 minutes to catch the attention of your target audience and convince them to convert.
And the chance of converting? It goes way up once you use videos on your landing page.
Now, 2.7 minutes might not seem like enough time to impress anyone, but Forrester research revealed that a minute-long video is actually worth 1.8 million words.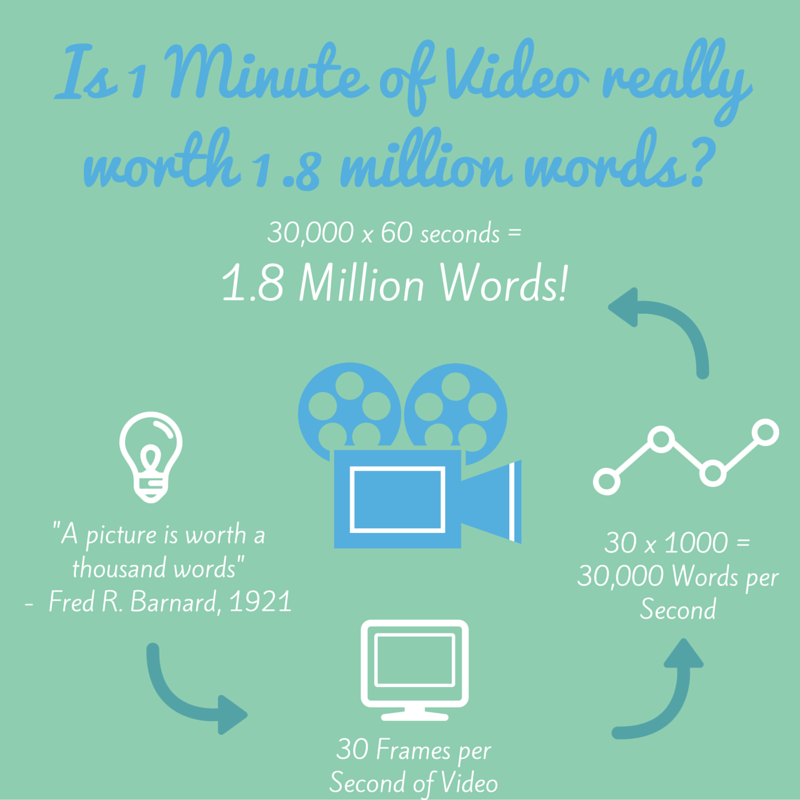 It's impossible to quantify just how many words a video is "worth," but the fact remains — in general, video has more visceral power than mere words.
And we can't neglect the dominance of mobile in this whole discussion!
For example, 33% of tablet owners worldwide watch at least an hour of video daily on their gadget.
As for smartphone owners, 72.1 million watched videos on their gadgets monthly in 2013. This figure rose to reach 86.8 million in 2014.
Among these users, 69% shared that they feel videos are ideal for smartphone viewing. They claim that these help them get quick and easy information on the products they intend to buy.
In fact, 50% of online users admitted to searching for videos about a product or service before to going to the store. Meanwhile, 53% favor companies that provide video about their products.
Every week, approximately 78% of the online users watch videos. On a daily scale, this accounts for 55% of the people.
Adding a video to your landing page means getting a shot at saying 1.8 million words to all these people worldwide.
Can you imagine how many pages that would have been in actual writing?
Before you get super excited over this and start imagining becoming an overnight success just by adding a video to your landing page, let me give you a swift reality check.
The fact that videos boost the conversion rates of landing pages is definitely not a secret.
Brainshark revealed that 93% of marketers today are already taking advantage of this situation.
They are now using videos in their sales and marketing strategies as well as digital marketing tactics.
Across the globe, 51.9% of marketing professionals recognize video as the kind of content that could provide the biggest ROI.
But how many are using videos correctly in a way that increase conversion rates? Not a whole lot, which leaves you with a huge opportunity.
I hate to say it, but if you're just now catching on to the power of video, you're a little bit late to the party.
A forecast from Cisco showed that 80% of online content will be primarily made up of video by 2019.
This prediction, which covered the years 2015-2020, has already started to come true.
In 2015, Cisco noted that 70% of Internet traffic was composed of video content with the expectation of a fourfold growth by 2020.
Brainshark shared that 74% of the total Internet traffic this year will be from video content.
Emails that include "video" in their subject lines have a 19% better chance of getting opened. Unsubscribe rates also go down by 26% when videos are included in the content.
Let me pause with the stats for a minute.
Point made. Videos are important. Videos can increase your conversion rates.
So now the only question is how?
How can you use videos with the kind of power and persuasion that cause people to convert?
That's exactly what I'm about to tell you.
Step 1: Use a purpose-driven video
Before creating a video, ask yourself this question: What do I want my customers to do after watching this clip?
You can be as specific as possible. The goal of your video is to get a conversion — an action.
You get to tell people what you want them to do.
Remember this amazing video?
The video has one purpose: To get you to sign up for dollarshaveclub.com.
The message couldn't be…