Author: Krista Wiltbank / Source: socialmediaexaminer.com Do you use hashtags in your Instagram posts? Wondering which hashtags resonate b
Do you use hashtags in your Instagram posts?
Wondering which hashtags resonate best with your target audience?
Choosing the right tool to analyze Instagram hashtag performance makes it easier to achieve your goals.
In this article, you'll discover five tools to evaluate the performance of your Instagram hashtags.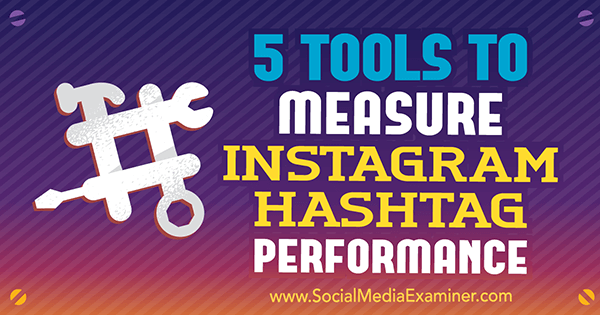 #1: Command Analytics & Stats for Instagram
Command is an all-in-one Instagram analytics and tracking tool. It's an iOS app only (sorry, Android users). The premium version ($9.99/month) offers hashtag analytics.
In the Post Stats section of the app, you'll discover which hashtags deliver the most engagement for you. You can also view the average number of likes and comments you get using different hashtags.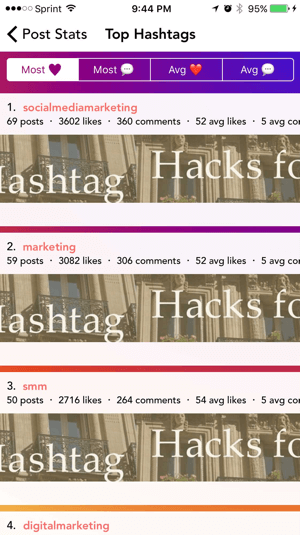 Command will track every hashtag you've used with your Instagram posts. You can see the average number of likes and comments for individual hashtags.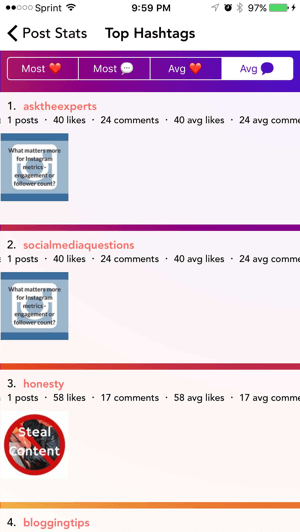 With both tracking options, Command will show you which posts contain individual hashtags. This information helps you analyze how well your hashtags are driving engagement. If your engagement rate starts to rise, it's a sign that your content is striking and/or useful or you're using the same hashtags as your target audience.
#2: Sprout Social
Sprout Social is a well-known social media management tool that offers robust reporting for Instagram. The Instagram report includes a simple but thorough hashtag analysis. It measures the hashtags you use most frequently and the hashtags that garner the most engagement.
This report helps you track your progress as you experiment with new hashtags on Instagram. If you see a hashtag at the top of both lists, you know it's working for you. If it's only in the left column, it's not.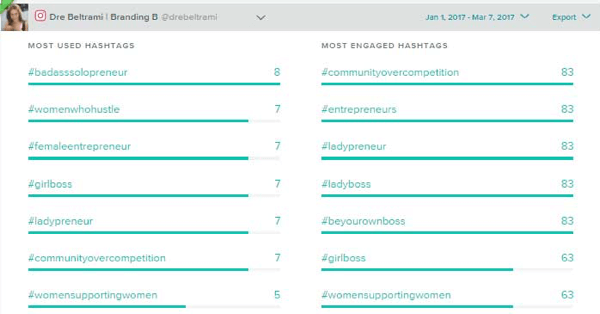 This analysis is helpful if you're building an Instagram community. If a branded hashtag you've created (such as the Rising Tide Society's #CommunityOverCompetition) appears in the right-hand column of the report, you know your efforts are effective. The higher the hashtag climbs on the engaged hashtag list, the more your community is growing.
Tracking your engagement over time is one of the ways you can measure the growth of your Instagram community. Sprout Social packages start at $59.99/month for complete social media management.
#3: Simply Measured
Simply Measured is a comprehensive social tool that focuses on analytics, reporting, and listening. The Instagram hashtag report provides detailed stats on your campaign hashtags. To access the report, go to the Reporting section; it's color-coded brown for Instagram reporting.
While you can run a single report on many hashtags, you may find it more effective to analyze hashtags individually so you can compare them to one another.
Simply Measured's hashtag report has three sections: Charts, Scorecard, and Appendix. On the Scorecard tab, get a snapshot of results for the hashtag you're measuring. This data is presented in a way that makes it easy to record the metrics for many hashtags so you can compare performance.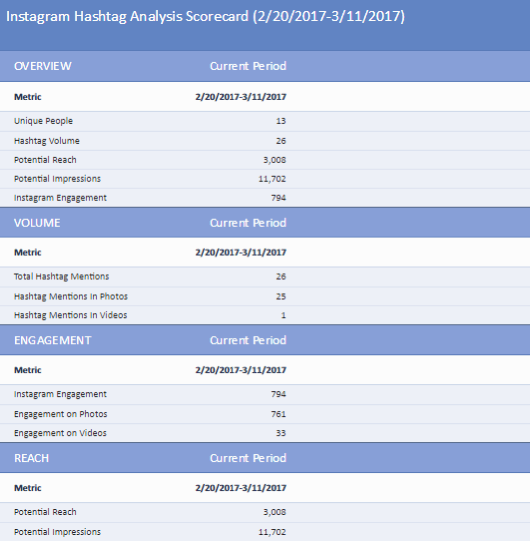 On the Appendix tab, see a list of posts that contain the hashtag for the time period of the report. You can view post-level statistics for each Instagram image or video that contains the hashtag you're analyzing. You'll find links to the posts themselves so you can see the creative and caption…