Author: Michael Brenner / Source: Marketing Insider Group If you haven't figured out how to tell your brand's story well, you're missing
If you haven't figured out how to tell your brand's story well, you're missing out on the huge revenue-boosting potential of your content marketing efforts. The right brand narrative has the power to increase the value of your business's product or service by over 20 times.
Why does the story matter? It is what makes your brand significant. It's the inspiring copy, the well-thought-out Instagram posts and website design, and the compelling video that turns mashed peanuts into Peter Pan Peanut Butter.
What Defines Great Brand Stories?
When marketing storytelling is done well, it:
Clearly establishes what your brand is all about – its purpose, core values, and mission
Offers the consumer more than just a product or service, but rather an experience that transcends mundane reality
Motivates the reader or viewer to step into that experience. This is done by crafting content in such a way that your audience feels as though they'd risk losing access to this somehow sublime experience of being a part of your brand if they don't buy, follow, or sign up right now.
Will boost your lead generation by as much as 16 times!
Whether you are trying to convince someone they can't live without creamy peanut butter on toast or the financial advisory services that can set them up for a comfortable, vacation-filled retirement, it's through the way you tell the story of your brand and what you're selling that you make an impact. This is how you can wield the true magic of experienced content marketers.
Here are the brand story examples that will show you just how powerful your content can be.
1. Marriott's #AtTheMoxy
Moxy is Marriott International's new boutique hotel brand that caters to millennial globetrotters. The brand is a trendy harmony of luxury-chic accommodation, youth hostel, and all-night bar. The marketers for Moxy have crafted a brilliantly entertaining video series, Do Not Disturb, which features the host, Taryn Southern, dishing up her best cheeky antics with social media influencers like Amy Pham and Oli White.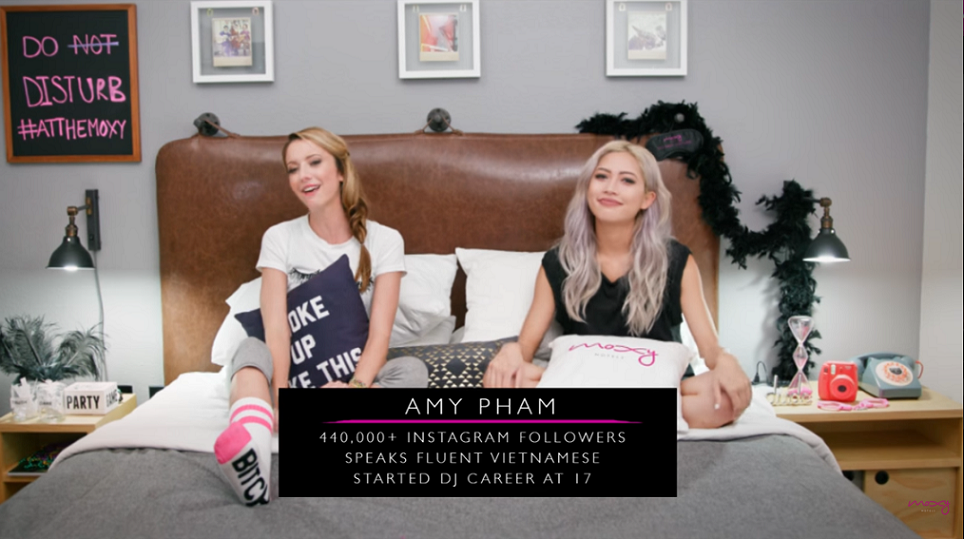 Every episode, uber-cool Instagram shot and even the hip black and magenta site design tell the Moxy story – and allude to expert mixologist services. What wanderlust-struck 20 or 30-something can resist?
2. Warby Parker Eyewear
Positioning themselves as the alternative to the high-priced, oligopolized eyewear industry, Warby Parker doesn't just sell quality glass frames and sunglasses. It invites its customers to…