Why You Need to Back Up Your Content It's important to back up your social media and long-form content both locally and to the cloud, whether it's Google Drive, Dropbox, or other storage networks. After you create and post a social video, be sure to save a copy to your smartphone. Save the Facebook posts, like the tweets, heart the Instagram photos, recommend the Medium posts, and otherwise find a way to capture all of the positive social media comments about your business, products, or services. #4: Download Profiles and Pages Several social media networks allow you to download your profiles and pages. Depending on how much content you have on your Facebook profile, it may take a while to process your archive. You'll get an email from Facebook when your file is ready to download. Facebook Business Page The process to download your Facebook business page is similar to your profile. Find the option to download your page data in your Facebook settings. You actually get more engagement information (such as the comments on photos you've posted) from your Facebook profile archive than from your Facebook page archive. Go to your account settings to download an archive of your LinkedIn profile data.
Do you have valuable social media posts you don't want to lose?
Want to learn how to back up your social media profiles?
Downloading your social media profiles, content, and contacts will ensure you always have what you need to keep your business running, no matter what platform or features come and go.
In this article, you'll discover how to download copies of your social media content and profiles.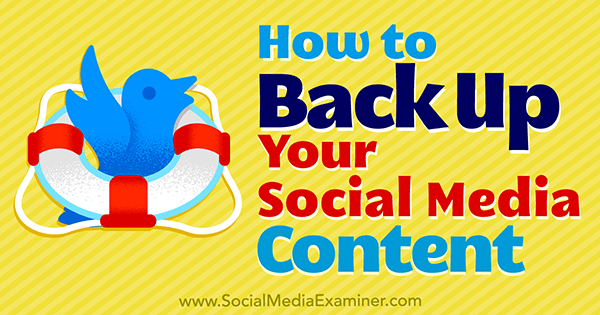 Why You Need to Back Up Your Content
It's important to back up your social media and long-form content both locally and to the cloud, whether it's Google Drive, Dropbox, or other storage networks. Here's why:
You never know when the server that houses your content might go down, meaning a delay in delivery or loss of your main website, blog, and other content. Or what if a site you've been contributing content to gets shut down, sold, or otherwise changed to where your content is no longer published?
Also consider the possibility that a social network might turn off a particular feature or the entire network itself (Blab, for example). Imagine spending years building up your blog using Facebook Notes or LinkedIn Publisher just to find out one of those services is being turned off?
If you start backing up your content now, you'll be in better shape than many of your marketing colleagues in handling unforeseen events. You'll also get more awareness of your content as an added bonus.
#1: Save Your Long-form Content
The next time you write a blog post, no matter what word-processing program or CMS you use, save the final version of your content to a Word (or other) document that you can save locally and to a cloud-based file service. For example, if you write long-form content in Google Docs, download the file as a Word doc when you're finished.

If you're a content producer who typically writes content for one main outlet (website or social network) and uses the rest of the social and blogging networks to promote that content, you might want to use a special naming convention to save it:
Publication Outlet 1 – Title 1
Publication Outlet 1 – Title 2
Publication Outlet 2 – Title 1
Publication Outlet 2 – Title 2
LinkedIn Publisher – Title 1
LinkedIn Publisher – Title 2
Facebook Notes – Title 1
Facebook Notes – Title 2
Medium – Title 1
Medium – Title 2
Now, suppose you find out Publication Outlet 2 has closed its doors or Facebook decided to turn off the Notes feature. Because you've saved your posts from that publication (or that feature) on your Google Drive and local hard drive, you don't have to scramble to save your content or worry you've lost it.
Your backup system also helps you maintain a library of topics and sites where you've published so you can more easily keep track of your content. For example, if you've been creating text-only content but want to start doing video, go through your Google Drive or local hard drive to see what topics you've done as posts and create videos for them instead.
Your content library also comes in handy for repurposing content. For example, let's say that Publication Outlet 1 is your blog. Some blogs will allow you to republish posts from your blog to theirs.
You could also take your posts and publish them to your LinkedIn Publisher, Facebook Notes, Medium, and other networks. Not only will you get more visibility for your content, but you'll also ensure that if one website or network goes down, your audience can always find your content elsewhere.
#2: Back Up Your Mobile Videos
Whenever you create videos on your smartphone for Snapchat, Instagram, Facebook, YouTube, and so forth, it's important not only to upload the videos to those networks, but also to save a copy of your social videos to your smartphone after recording or after the video is published.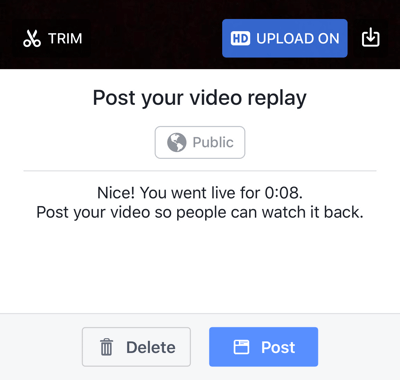 For example, after you finish a Facebook Live video, depending on the smartphone app you use, you may see a screen like the one above prompting you to save your video with the download icon (to the right of the blue HD Upload On button in the image).
Or after you record a segment of an Instagram story, save it by tapping the Save icon at the bottom left.

At the end of the day, download your entire Snapchat story as a video by tapping the download icon to the right of your story.

You may be able to reshare these videos on other video sharing networks, depending on whether they allow you to upload video from your phone. For example, upload a good Snapchat story to Facebook to encourage people to follow you there and engage your Facebook fans.
The same thing goes for non-mobile video content: back up non-mobile videos locally and to the cloud. Don't trust it to just one social network. If there's a way to download the video (like Blab used to allow video hosts to download audio and video files of their blabs), do it. Or look for browser extensions that let you scrape video content on a page if you have to. Don't lose your videos!
#3: Capture Testimonials
You may remember a time when LinkedIn company pages had an option to capture your customers' product and service recommendations. It was a wonderful way to get testimonials for your business until LinkedIn decided to shut the feature down (when they turned off the Products & Services tab on company pages).
Businesses lost all of those recommendations they spent time collecting.