Source: Neil Patel Recently, I was working with a client, talking about backlinks and how to create a great link building strategy for the company.
Recently, I was working with a client, talking about backlinks and how to create a great link building strategy for the company.
I asked them what their current link strategy was and found out they didn't exactly have one. They weren't super familiar with link building and had only done a little research into it.
So when I warned them about the possibility of a link penalty, they were surprised. Link penalties? In 2017? They didn't know that could even happen.
Yikes.
But this is something I see almost on a daily basis. I visit lots of sites that have unhealthy or dangerous links.
This is one big reason you need to perform link profile audits on a regular basis.
But there's another big reason that goes way beyond risk. There's opportunity!
When you take a good hard look at your site's backlinks, you quickly understand just how powerful a good link profile is. You'll see places where you can get even more high-value links that will boost your site's performance and rankings!
So what is a link audit, anyway?
A link audit analyzes your current links (also called your link profile) and evaluates how good they are for your site.
And, like I mentioned above. a good link audit also reveals any risky links and shows you how you can improve your strategy.
Even if your links aren't at risk, you could still be underperforming. Link audits can help you size up a competitor, enhance your SEO, and much more.
If you've done link audits before, you know that they can take some time. I've worked with agencies who price link audits at one hundred hours!
Agencies often charge $1,750 to $5,750 for a link audit. The average price comes out to around $3,450 to get a done-for-you link audit.
More commonly, a link audit can take anywhere from 5-10 hours, and that's assuming you have some powerful and expensive tools at your disposal.
I don't know about you, but I want to get the best results as quickly as possible.
I've created together a link profile audit process that only takes 45 minutes.
Does the name "link audit" sound a bit scary? Don't worry. Even if you're a complete beginner. I'll cover everything you need to know, step-by-step.
Learn how I grew my search traffic to over 100,000 visitors a month through link building.
Pre-audit research (Optional: 30 seconds per competitor)
There is one thing you can do before you start your audit: get an idea of your competitors' backlink strategies.
This step is optional, but I highly recommend it because it will give you helpful information and context.
At the very least, you can run a Majestic analysis for each of your competitors, which will take a total of 30 seconds.
Go to Majestic.com (you don't need to purchase a subscription).
Type in your competitor's URL, and click the orange magnifying glass button.
Instantly, you'll see the number of external backlinks, referring domains, referring IPs, referring subnets, types of links, backlink history, etc., etc.,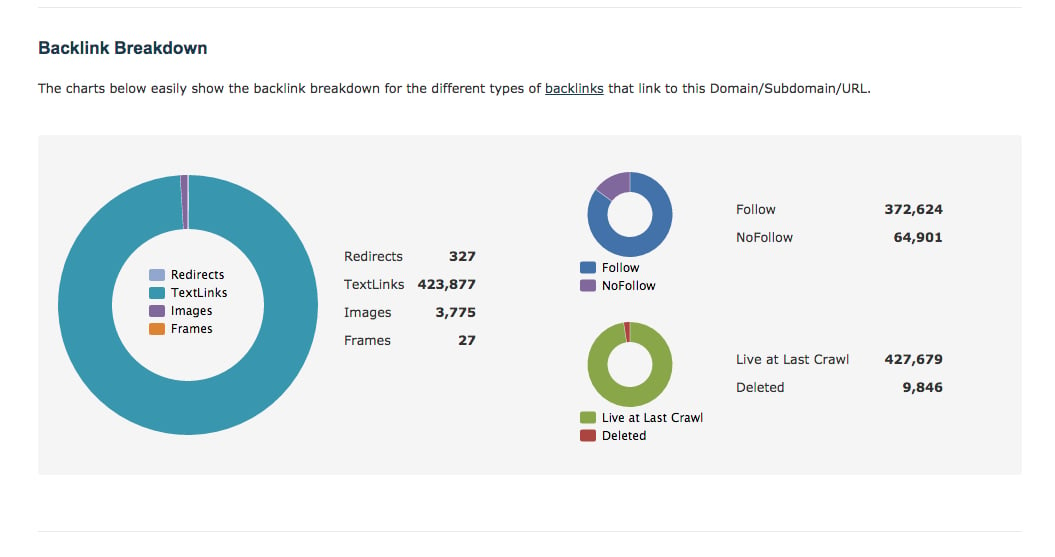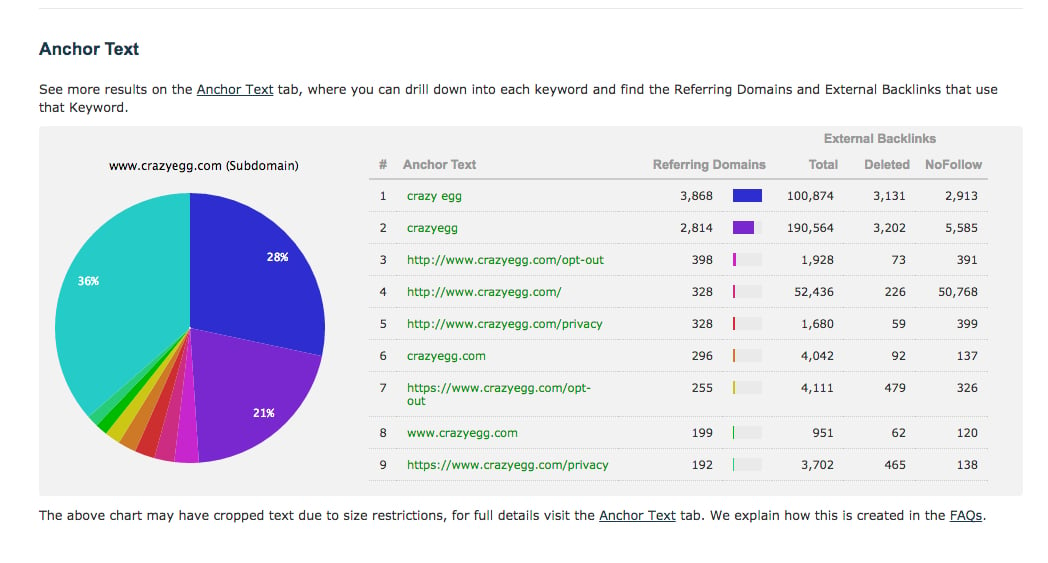 That's a lot of information!
Don't worry if you aren't sure what any of this stuff means yet.
What's important is this: You're getting valuable information on your competitors that you can use as a benchmark to understand your own site's link profile.
Armed with this information, you're now ready to dig in to your link profile audit.
Finding your backlinks (2 minutes)
Before you do anything else, you need to find all of the links that are sending traffic to your site.
The easiest way to do this is to use Google Search Console. Google provides a handy resource that lets you see what's happening with your backlinks.
There are plenty of websites that will dish up a list of your backlinks. In my experience, however, Google provides the most accurate and up to date information.
To see this, log into your Google Search Console (Webmasters) account by clicking "Sign In" at the top right.
Once you're at your Dashboard, click "Search Traffic" in the sidebar on the left side.
Then click "Links To Your Site."
Now you'll see the total number of backlinks to your site:
You'll also see a few helpful categories. The "Who links the most" category shows you which sites are giving you the most backlinks.
You can also see your most linked content and even see how your content is linked (i.e., what anchor text is being used for your backlinks).
Analyze your backlinks (20 minutes)
At this point, you have two options to continue your backlink audit.
Option 1: Evaluate each link manually. This would consist of visiting each link separately and considering its value and health.
The big problem with this? If you have a lot of links (and I'm guessing you do), it would be a pain to visit each link. You could end up visiting hundreds of thousands of links!
Thankfully, there's a second option…
Option 2: Use a link analysis tool.
That sounds better, doesn't it?
What's more, you have a few options to choose from. In fact, you can even use more than one of the tools I'm about to share with you. That way, you'll have a super comprehensive view of your backlink situation.
I've provided a summary on the most popular tools, and will briefly explain how to use each one.
No matter which tool you end up using, you want to look for a few important results:
List of backlinks
List of unhealthy/dead backlinks (i.e., backlinks that don't work)
Domain authority (DA)
Page authority (PA)
SEMrush Backlink Audit
This sounds exactly like what we need, and indeed it is! SEMrush's Backlink Audit analyzes backlinks using 30 "toxic factors."
Basically, it checks each of your backlinks for red flags. You'll then see results that show you how to improve your links and which links need some help.
To get started, create a free SEMrush account by going to SEMrush.com by clicking "Log in" at the top right corner.
Click the "Register" tab and set up a free account.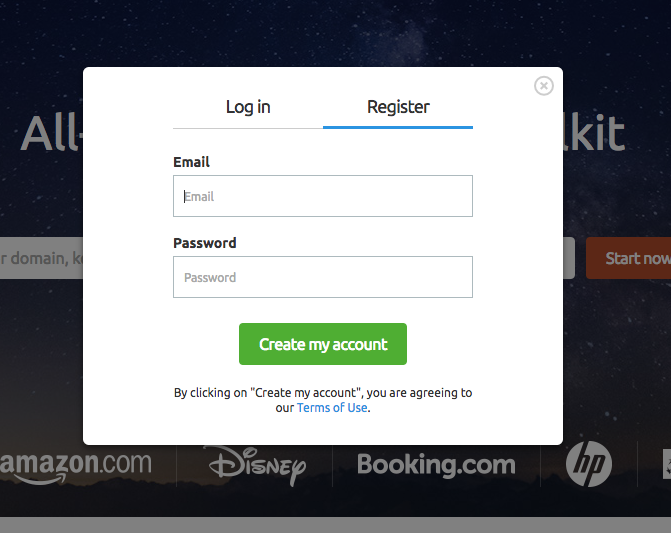 Next, go to your Dashboard.
On the left hand sidebar, click Projects > Create my first project.
Click "Create my first project."
Enter your site URL, give your project a name, and hit "Save." (I'm going to call the project "Backlink Audit.")
You'll see several options on the next screen. Find "Backlink Audit" and click "Set up."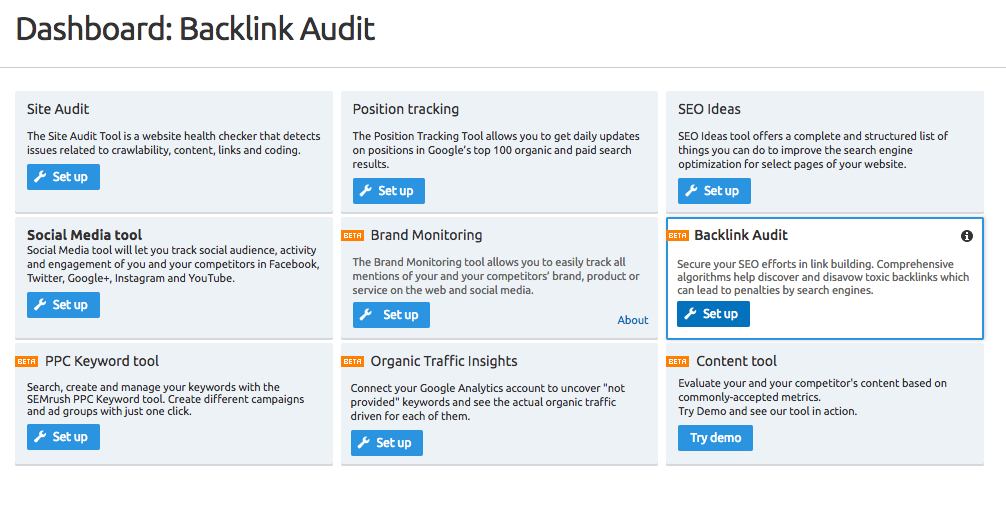 Select your campaign scope and click "Start Backlink Audit." (I recommend choosing the "root domain" option.)
You might get a popup notifying you about the ability to connect Google Search Console with SEMrush. This is optional, but it will give you more flexibility and power as you perform your audit.
From here, you just need to wait. SEMrush will complete the backlink audit and show you the results.
You can see the progress bar in the top right:
Once the audit is finished, you'll get a notification like this:
Your results page should look like this: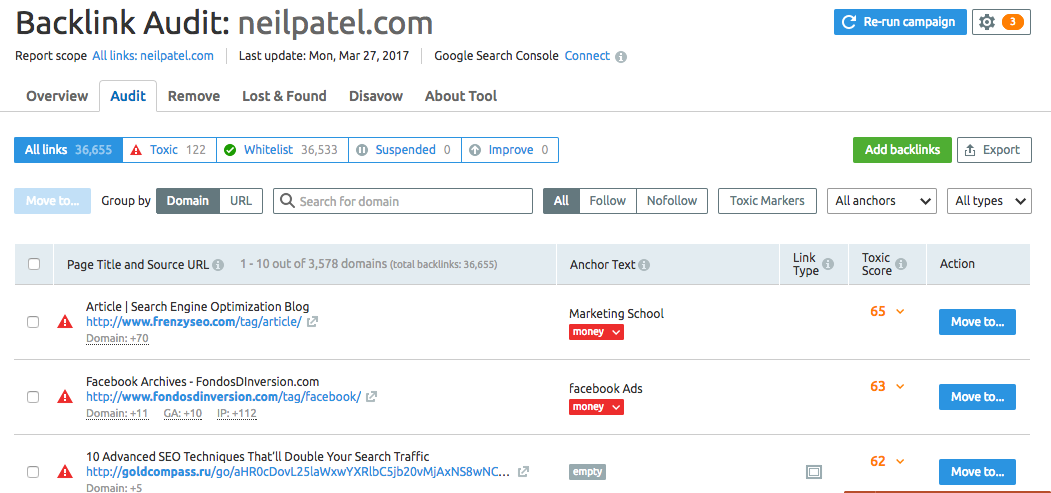 I especially like this tool because it evaluates which links are the most hazardous to your site's health.
Running SEMrush Backlink Audit should take somewhere from 3 to 8 minutes,…