Source: Neil Patel The network that more and more marketers (myself included) are turning to these days is Facebook. Facebook Ads is fast becoming
The network that more and more marketers (myself included) are turning to these days is Facebook.
Facebook Ads is fast becoming the go-to platform for paid ads.
Just look at how the interest level has grown in recent years.

According to Business 2 Community, "Facebook accounts for 9 percent of the digital ad spending and 18 percent of the global mobile digital ad spending."
The amazing thing is the massive built-in audience you can reach.
Here are a couple of highlights from an infographic from Business 2 Community that shed light on the sheer size.
Not only that, people spend a lot of time on Facebook.
In fact, the average person spends 40 minutes each and every day.
When you really break everything down, Facebook marketers all have a singular interest and priority — maximizing their click-through-rate (CTR).
More specifically, they want their clicks to be from qualified, relevant leads that are likely to convert.
This poses a simple but extremely important question:
How can you get more clicks on your Facebook Ads?
I would now like to cover a range of techniques and tactics that are based on thorough research and that have worked for me personally.
These should not only help you get more clicks but ensure that you ultimately get a solid conversion rate as well.
Learn how I generated over 100,000 visitors a month without Facebook ads.
Targeting your demographic
Facebook's reach is ridiculous.
You literally have people from all walks of life logging into their account every day.
For this reason, it's imperative that you narrow your audience down so that your ads are being displayed to the right people.
This is done by being super-specific with the demographic you target and letting Facebook know exactly who it is you're trying to reach.
Fortunately, Facebook makes this fairly easy to do.
It's just a matter of targeting users based on factors like location, interests, age group, gender and so on.
Here's what you want to do.
After you've created a campaign and an ad account in Ads Manager, you'll get to the third step: your Ad Set.
This is where you'll see this screen.
Scroll down just a bit, and you'll get to the "Audience" section.
This is where you "define your audience, budget, and schedule."
Let's say there's a small, mom-and-pop type coffee shop in Seattle.
The first thing you want to do is choose your location and create a radius to ensure that your ads are only being displayed right in and around greater Seattle.
To do this, you would enter "Seattle" in the "Add locations" box.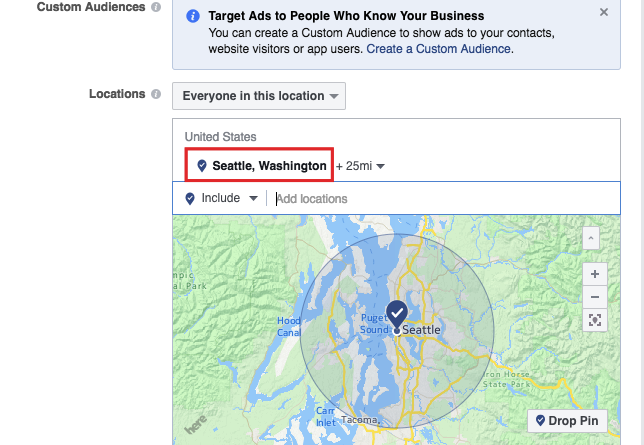 Next, you'll want to pick the right radius.
The default setting is +25 miles, but you can change that by clicking on +25mi.
Let's shoot for a little smaller of a radius and go for only 15 miles.
You would adjust it in this box.
Next, you'll want to select the right age group for your demographic.
The default setting is 18 – 65, but you can adjust this as well.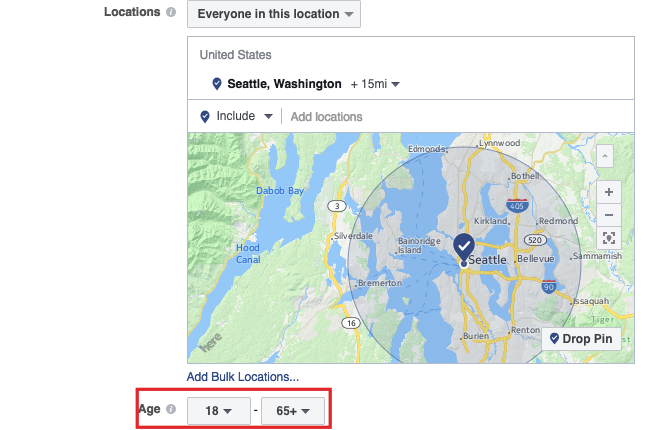 If you're only targeting a certain gender, you can opt for either men or women under the "Gender" section.
The "Languages" section beneath this is pretty self-explanatory.
The area that you really need to pay close attention to is "Detailed Targeting."
You'll want to carefully think this through and include a hyper-specific audience.
You can either manually enter a demographic, interest, or behavior or let Facebook help you find the best criteria.
Since our example is a coffee shop, I will choose interests like "coffee" and "food and drink."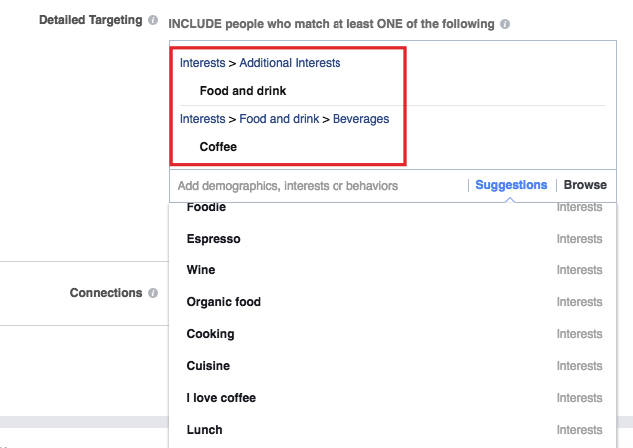 Note that Facebook will automatically give you other ideas based on whatever term you enter.
Just choose whatever is most relevant to your audience.
Like in Google Adwords where there are negative keywords, you can narrow your demographic by excluding certain people.
Simply click on "Exclude People" or "Narrow Audience."
Let's say that I wanted to exclude people who are looking to research or buy an actual coffeemaker.
I would enter "coffeemaker" in "Exclude People."
The bottom line here is to be extra thorough when identifying your demographic.
Not only will this help you increase your CTR, it should increase your conversion rate for a better overall ROI.
Images
Now for the obvious — images.
One of the reasons I love Facebook Ads is because it's one of the only PPC platforms that allows you to use images, which is a huge plus in my book.
But of course, not just any image will suffice.
The picture you use will dominate your ad, so you need to choose very carefully.
And there's a certain formula that I like to follow.
Contrast
The goal is simple. You want to immediately grab the user's attention and get their eyeballs on your ad.
A surefire way to do this is to use plenty of contrast.
I personally prefer a light background with brighter images in the foreground to "make it pop."
Here are some good examples.
I think Naturebox really nailed it.
I know that my eyes instantly gravitate to the orange colors.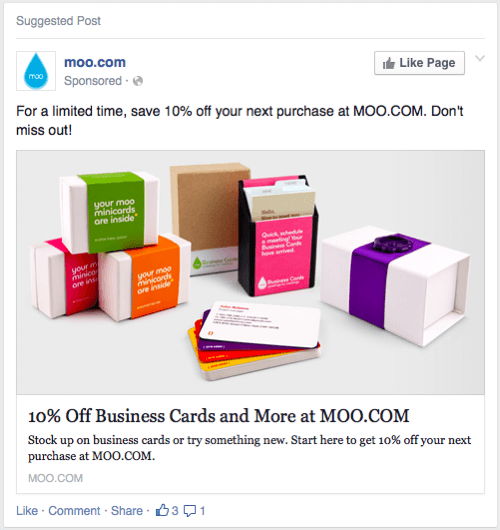 This ad from Moo.com has a similar effect.
So does this one from Harry's.
I'm personally a proponent of sticking with a clean, simple, almost minimalist aesthetic.
It looks great and helps people focus.
People smiling
One thing I've noticed in my campaigns is that people tend to respond positively to seeing other people in ads.
This helps create an emotional connection, which I find makes users more receptive to checking out my ads.
It can also help create trust.
That's why I often feature my own images in my ads.
But I also recommend using images of other people smiling.
Here are two great examples.
Here's another thing that I've heard from experts.
It's ideal to use images of attractive people.
I know it sounds vain and the term "attractive" is inherently subjective, but it's definitely a factor in getting clicks.
And here's another thing.
…