Source: Neil Patel I think one of the coolest things about marketing is being able to turn a loss into a win. You can take a failure and turn it in
I think one of the coolest things about marketing is being able to turn a loss into a win.
You can take a failure and turn it into something that actually benefits you.
Whenever I face a business or marketing challenge, this is exactly what I try to do. Sometimes, it's a big issue — like a year long lawsuit. Other times, it's a small issue — like a single redirect.
Yep, even a 301 redirect!
That's the great thing about 301 redirects. On the surface, a 301 redirect seems boring and technical. But you can actually leverage 301 redirects to get more traffic.
I know it sounds crazy, but it's totally possible.
In this article, I'll be talking about what a 301 redirect really does and how you can turn it into a viable source of traffic for your site.
If you want a behind-the-scenes look at some true insider information on increasing traffic, this article is for you.
I should point out that all redirects are somewhat risky in terms of SEO. They won't help your SEO all of the time, but they won't kill your rankings either.
So if you want to play it completely safe and refrain from checking out a technique that could possibly give you big returns, you might want to skip this article.
Don't get me wrong––redirects aren't black or gray hat techniques. They're standard practice for webmasters. However, they do carry a little bit of risk in terms of SEO.
What's important is that you're aware of the inherent risk that redirects have. That said, I'll be talking about redirect best practices, but you still might not experience perfect results.
Now that we've gotten that out of the way, let's talk about redirects.
What a 301 Redirect Really Does
You've seen 301 redirects in action all over the web, but you may not have realized it.
Here's what a 301 redirect looks like.
Type https://neilpatel.com into your URL bar.

Hit enter. When the site loads, you'll see something different in the address bar:

If you typed in the https:// prefix, why did it disappear? That's because of a simple 301 redirect.
You might be wondering, "Why would I need to use a 301 redirect?" The answer: It depends.
This specific example is one you'll often see of a URL redirect on blogs. Typically, blogs do this because a URL without the http:// or https:// is easier to see and remember. People don't have to look past the HTTP or HTTPS prefix––they just see the website name.
It's also important that you use just one form of URL so you can maintain what Moz calls "domain authority."
To illustrate this, let's use NeilPatel.com. Notice that no matter which page of NeilPatel.com you're on, you'll always see neilpatel.com at the beginning.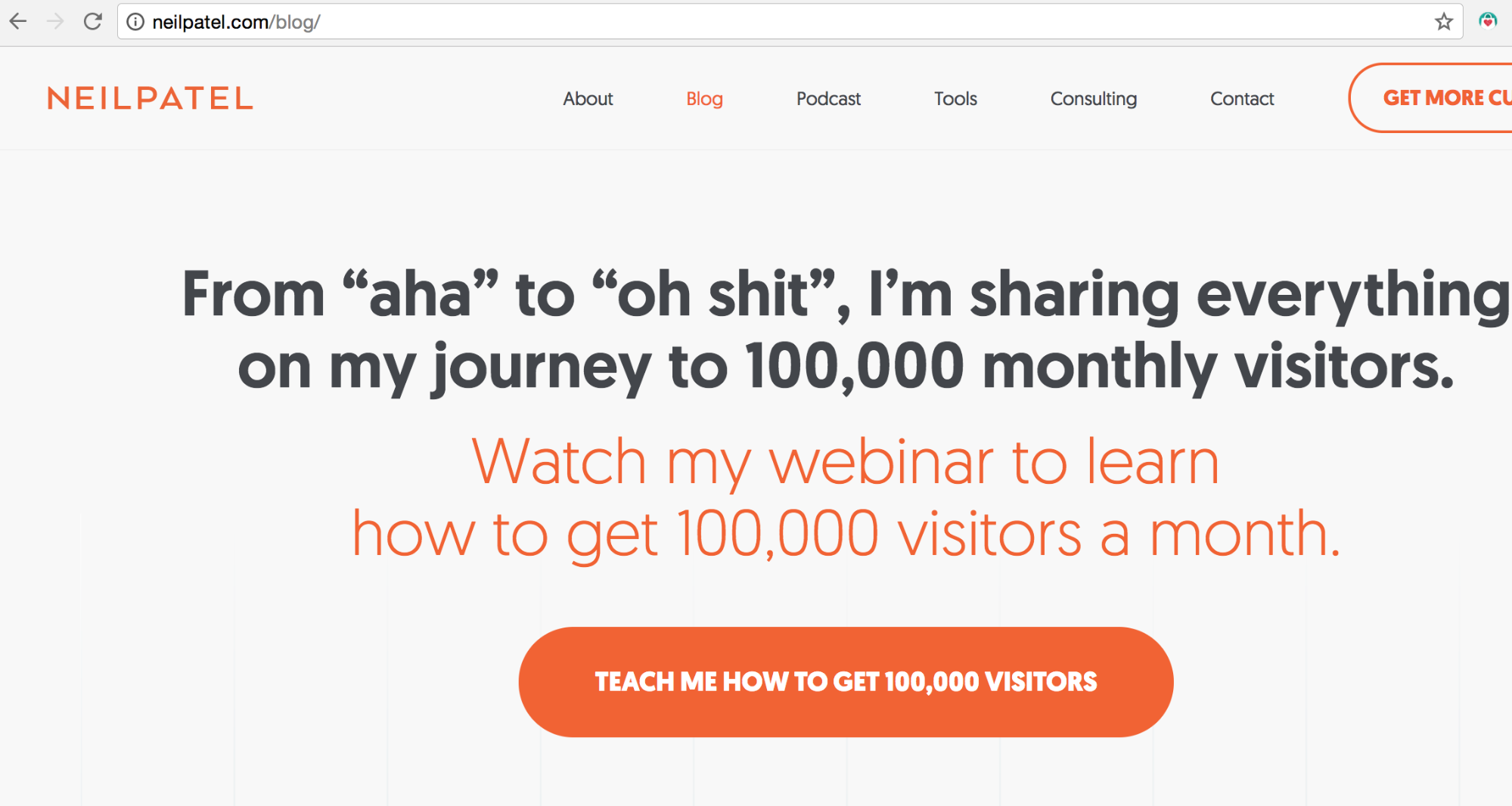 In other words, you'll never see https://neilpatel.com or www.neilpatel.com
I've used the same type of URL for all my pages, which gives me a huge advantage because all my pages are associated with the same URL.
Ultimately, using the same URL type makes it easier for you to remember, and it builds my authority in the process. That's one great reason to set up 301 redirects.
Some sites prefer this URL consistency just because they think it looks nicer. It might not be worth the trouble if this is your reason, but you should set up the same URL pattern just for the sake of maintaining domain authority.
Let's try it again with a slightly different kind of 301 redirect. Type in http://nationalgeographic.com. You'll see that it makes an even more dramatic 301:

It's transformed the domain to www.nationalgeographic.com. This is another option many sites go for.
It can also work the other way around, and there are different reasons for doing it that way too.
What do I mean? Let me show you.
To see this type of 301 redirect in action, type mint.com into the URL bar.

When it loads, you'll see the https:// prefix.
This is because Mint wants you to know it's a secure site since it deals with personal financial information.
You'll also see this with many banks, government institutions, and most businesses that deal with confidential information of any kind.
If you type in http://bankofamerica.com, you'll get redirected to the HTTPS site.


Those are two of the most common ways to use 301 redirects. However, these aren't all of the uses of 301s.
Let's take a look at some of the more interesting stuff.
Here are some other ways you can use 301 redirects.
Using 301 Redirects for Rebranded Sites
If you rebranded your website, you can use a 301 to direct traffic from your old site to your new one.
Jon Morrow did this with his old blog Boost Blog Traffic. He created a new brand called Smart Blogger, and that's where you'll find all of the old content plus the new.
But Jon didn't want to lose years of existing content, so he migrated the site over to the new URL that reflects the new brand name.
So when you type in boostblogtraffic.com into the search bar…

…it automatically redirects you to the Smart Blogger site.

This was a crucial move for another reason: Jon had spent years building authority under the Boost Blog Traffic brand. He didn't want to lose all of the backlinks he'd worked so hard for.
Using a system of 301 redirects was the perfect solution. All of that precious SEO juice was preserved, and Jon could use his shiny new branding.
So if you've rebooted your brand in any way, you can use 301 redirects to keep your SEO and traffic.
Now, I know what you're thinking: "What if I haven't rebranded my site?"
And that's a completely valid question. You probably haven't rebranded your website recently.
But there's another way you can use a 301 redirect to give your site an SEO boost and make it more credible at the same time.
Here's where a particularly ingenious tactic comes into play, and it's one of my favorite ways of getting a legitimate improvement in SEO from…