Source: Neil Patel Handwritten checks. Pay phones. Link penalties. Do you see the pattern? I'm talking about things that most people don't think ex
Handwritten checks. Pay phones. Link penalties.
Do you see the pattern?
I'm talking about things that most people don't think exist.
But they actually do.
Okay, maybe it's not that surprising that checks and phones still exist. But for some reason, people think link penalties are outdated too.
There are legitimate reasons why people think this, and I'll go into those in a minute.
For now, keep in mind that link penalties still happen.
Because link penalties are still around, you need to constantly audit your link profile to make sure it stays clean.
That also means you'll need to become a master at using Google's Disavow Tool.
Disavowing links is an important part of any backlink strategy.
Unfortunately, it's often the part that I see people put the least effort into.
So in this article, I'll show you how to use the Disavow Tool. I'll tell you when to use it so you don't waste any time disavowing links that don't need it.
Ready? Let's get started.
Why and when should you disavow?
First, let me address these two questions.
If you don't already know what disavowing a link is, it's basically telling search engines that you don't want them to consider certain links when crawling your site.
Why would you ever want to eliminate a backlink from your site?
The more links that are pointing to your site, the better, right?
Not always.
There are some links that will hurt your site's SEO if you don't remove them.
The #1 reason you should disavow a link is because it's spammy or low quality.
Unfortunately, many sites fall victim to these kinds of links.
There are a few categories of bad backlinks:
Sites set up just for links
Obviously spam sites
Links in spam comments
Backlinks from sites in your non-target country/countries (e.g., a backlink from a German site when your audience is in the U.S.)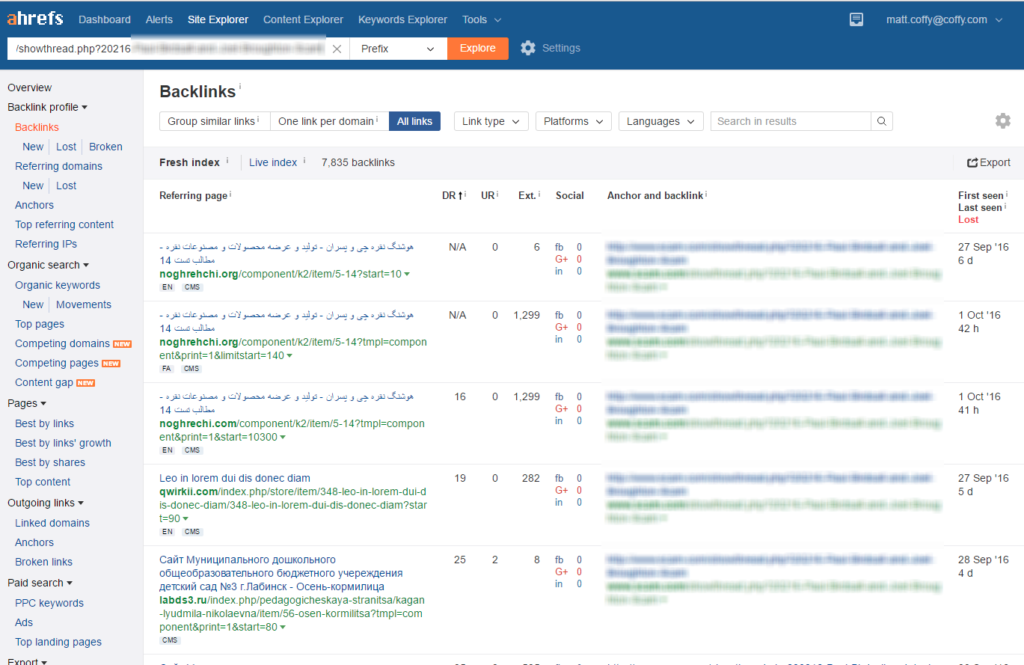 You might be wondering why this is such a big deal at all.
In Google's words, "a link from a site is regarded as a vote for the quality of your site."
Good backlinks can raise your Domain Authority (DA) and Page Authority (PA) scores, increase your visibility in search engines, and help you rank better.
Bad backlinks do just the opposite. They harm your SEO and cause you to lose ranking.
With that said, you shouldn't go disavowing links left and right.
In fact, Google has a warning about the Disavow Tool on their support page:
That seems pretty intense! It makes you second guess using the Disavow Tool.
But don't worry about it.
Google just wants to make sure you're not disavowing the wrong links. You should request removals first, and I'll talk about that later.
So here's the million dollar question: What doesn't count as a "normal" or "typical" site?
In other words, when would you need to disavow a link if Google does most of the work?
There's also been a lot of talk about Google's new algorithm rendering link penalties useless.
This idea came from a Facebook conversation between Google's Gary Illyes and Search Engine Land's Barry Schwartz:
Barry concluded the article with, "So in short, it seems Google Penguin no longer penalizes the site or specific pages but rather ignores/devalues the spammy links and thus the rankings are adjusted."
This made it seem like webmasters would no longer need to use the Disavow Tool.
But that conversation isn't the whole picture.
Gasp!
Over at Moz, Michael Cottam found this wasn't exactly true:
He's talking about the difference between manual and algorithmic penalties.
Manual penalties are link penalties that a Google staff member personally hands out. An algorithmic penalty is one that Google's Penguin algorithm hands out.
What Michael found is that algorithmic penalties are still being given out by Google.
So what's the bottom line?
Although Google does have excellent systems in place, some bad links still slip through the cracks.
And while Google's Penguin algorithm might not be handing out any more penalties, Google still does assign penalties.
These two reasons are why you still need to disavow bad or unwanted links.
If you learn to use the Disavow Tool well, you can avoid low-quality backlinks and make sure your SEO is the best it can be.
Before you disavow…
Don't forget that disavowing a link is always the last resort.
Essentially, disavowing a link is telling Google that the link is a threat to your site. It's a serious action to take.
So you shouldn't disavow links indiscriminately. Like Google says, you could hurt your own SEO, and that's not what you want.
Before you disavow, try manually requesting a removal of the link.
The best way to go about this is to email the owner of the site. Typically, there will be a support or contact email at the bottom of the site or on a contact page.
You might also find contact information on an About page or in a sidebar.
In any case, there should usually be contact information somewhere on the site or on a social media network.
If you can't find any information on the site itself, try Whois.com.
WHOIS is a service provided by the Internet Corporation for Assigned Names and Numbers (ICANN) that allows you to look up information about a site's ownership.
On Whois.com, you can find this info by entering the URL in question into the box at the top right-hand corner and clicking "WHOIS."
Most of the time, you can get a contact email this way.
When you find their information, send them a request to remove the backlink in question. Make sure you're specific and polite.
Here's what a good removal request should look like: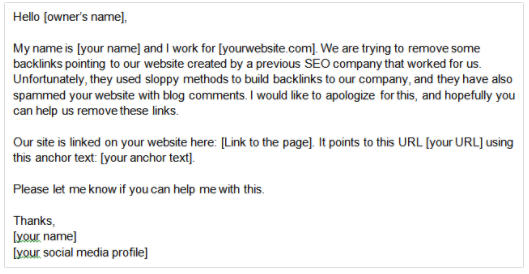 If you can't find any contact information whatsoever, see if there's another way to get in touch with the site owner. These might include:
Reaching out on social media
Commenting on a blog post
Searching the site owner's name on Google
If you still can't contact the webmaster, go ahead and disavow the…