Author: Michael Brenner / Source: Marketing Insider Group Spoiler alert: Facebook is not the most engaging social media channel! Despite
Spoiler alert: Facebook is not the most engaging social media channel! Despite its sheer numbers of active users and maturity, this social media network may no longer be the top platform to focus on for your social media marketing strategies.
You can probably guess which platform ranks as the most potent channel for engagement. Since its inception as a photo-sharing app in 2010, Instagram has risen to become one of the largest social media networks with well over 500 million active monthly users.
According to a new report, Instagram isn't just growing. It may be the most powerful social media channel available to businesses on the internet.
There are a few other surprises, such as Twitter's waning significance and LinkedIn's strength in certain industries.
Are you focusing your efforts on the right social media channels for your brand? Even more crucial, as we marketers strive to work smarter with the shift towards agile methods, are we wasting our time on others?
How Social Media Sites Add Up – New Digital Marketing Analysis Report
This year's official analysis of the digital marketing industry by TrackMaven – a comprehensive look at more than 700 leading businesses across 13 industries, found that Instagram isn't simply the most engaging. This network crushes the other social media platforms when it comes to social media engagement in every industry except real estate.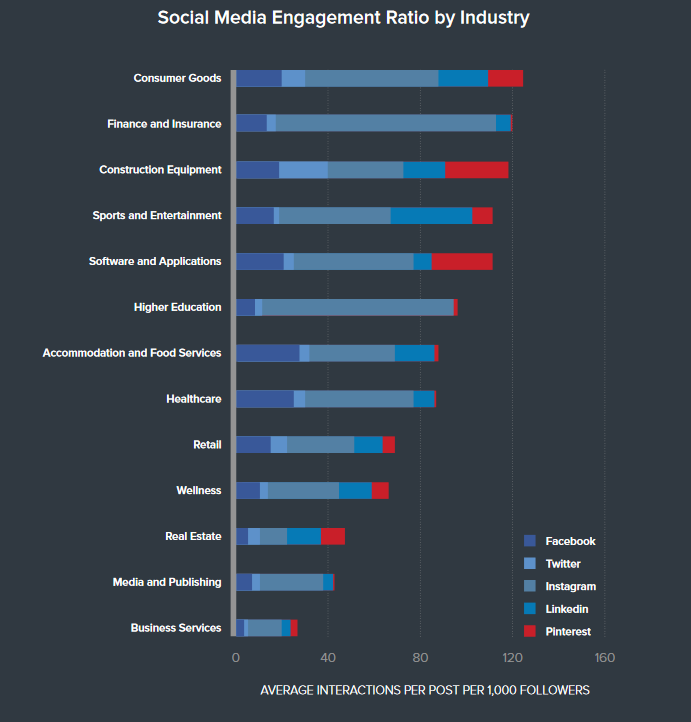 And, the least engaging? Of Facebook, Twitter, Instagram, LinkedIn and Pinterest, our old friend Twitter inspires the least engagement across the board. As with the Instagram phenomena, where the site was wildly engaging when compared to other networks, the report found that Twitter looks pallid next to all of its brighter, more engaging social network colleagues.
Again, with one exception. Construction equipment – which received, on average, 21.26 interactions per post per 1,000 followers. When it comes to the world of dump trucks, cranes and plow trucks, marketers get about the same amount of engagement across channels.
What's even more surprising is that Facebook isn't getting that much engagement, at least not enough to warrant its popularity among marketers. Still today,
55% of marketers say Facebook is their most important platform for marketing – with the second in line being LinkedIn, favored by 18% of marketers
67% of marketers plan on increasing their activity on Facebook in 2017
Are we way off when it comes to our social media strategies? Should we be working on filling our photography skills gap for our brand's Instagram account?
Industry Does Matter
Before you sign up for an evening photography class, what industry you are marketing for does make a difference. For example, in the healthcare industry, as well as for food services and accommodation, Facebook is still incredibly useful for engagement.
This makes sense – Facebook is great for restaurants and hotels who need a channel…