Instagram Rolls Out Live Video: This Week in Social Media. Facebook announced "a new way to go live on Facebook" with Live 360. Topics include live video formats on Instagram, Twitter, and Facebook (4:08), and Snapchat's new Groups feature and new content partner (25:19). The Mitú channel is available now on Snapchat Discover. Snapchat is expanding its Discovery Channel offerings with a new partnership with Mitú, a Hispanic-American lifestyle network that averages 400 million viewers per month. Users can now view shared photos but "not much else" on this stripped-down and basic web version of Facebook Moments. Facebook rolls out a lightweight web version of its photo-sharing service, Moments https://t.co/V5t43J7TCW by @sarahintampa Facebook Releases Stand-alone Events App on Android: Facebook's stand-alone Events from Facebook app, which was introduced earlier this year on iOS, has been released on Android. News From a Partner, Simply Measured: 2017 Social Marketing Planning Guide: Are you looking to get a running start on your social media planning for 2017? Another finding suggests that 40% of readers drop off after the first 15 seconds of opening an instant article, with only 3% continuing to read for at least 3 minutes. What do you think of live broadcasting on Instagram?
Welcome to our weekly edition of what's hot in social media news.
To help you stay up to date with social media, here are some of the news items that caught our attention.
What's New This Week
Instagram Rolls Out Live Video to All U.S. Users: Following an announcement a few weeks ago, Instagram is rolling out Live video in Stories "to everyone in the US over the next few days." With this new video feature in Stories, users can instantly go live by swiping into the Stories camera mode and tapping the Live button. The Next Web reports that the live videos will disappear once the recording is done. Also, a "Top Live" section in the Explore tab will direct users to "some of the best ongoing footage" on Instagram.
Instagram Live video is rolling out to everyone in the US https://t.co/VSDfoKd4Wd pic.twitter.com/l1IgRuRHzp
Snapchat Introduces Groups Feature and Two New Creative Tools: The Snapchat Groups feature offers "a new way to communicate with up to 16 friends on Snapchat." A group can be "created while sending a Snap or when you're making a new Chat" and makes it simple to toggle between one-on-one and group conversations on Snapchat. Just like with chats, messages sent to a group will be deleted by default within 24 hours and can only be opened and played once by each recipient.
Snapchat also rolled out two new creative tools this week called Scissors and Paintbrush. Scissors can be used "to cut out part of a Snap on the Preview Screen to turn it into a sticker." The new Paintbrush tool can be applied to snaps in memories and turns these images into "an artistic masterpiece!"
Twitter Adds Ability to Broadcast Live Video From iOS and Android Apps: Starting this week, Twitter users "can create and Tweet live video from the Twitter app, powered by Periscope" with the tap of a button. To go live, users can simply compose a tweet and tap a new "LIVE" icon. A pre-broadcast screen opens and waits until you're ready to "Go Live" and start broadcasting. Twitter announced that this update is "rolling out to everyone on Twitter for iOS and Android over the coming days."
Go live straight from Twitter. Watch this video to learn how. #GoLive pic.twitter.com/tk09VOdr4t
Facebook Introduces Live 360: Facebook announced "a new way to go live on Facebook" with Live 360. As the name suggests, this new format combines the ability to share "an immediate, authentic window into what's happening in the world right now" with Live video that "immerses viewers fully into the scene, letting them explore on their own and experience a new environment" in 360 degrees.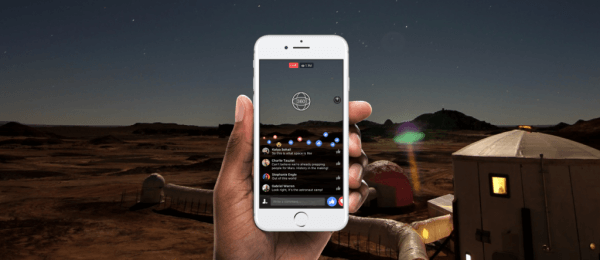 Facebook launched Live 360 video this week with a National Geographic report from the Mars Desert Research Station in Utah. The broadcast showcases how "people around the world will be able to discover and explore this video [format] on Facebook" and can be found on the National Geographic Facebook Page. Facebook announced that "Live 360 video will be available to more Pages via the Live API in the coming months" and will be rolled out "more broadly for all Pages and Profiles in 2017."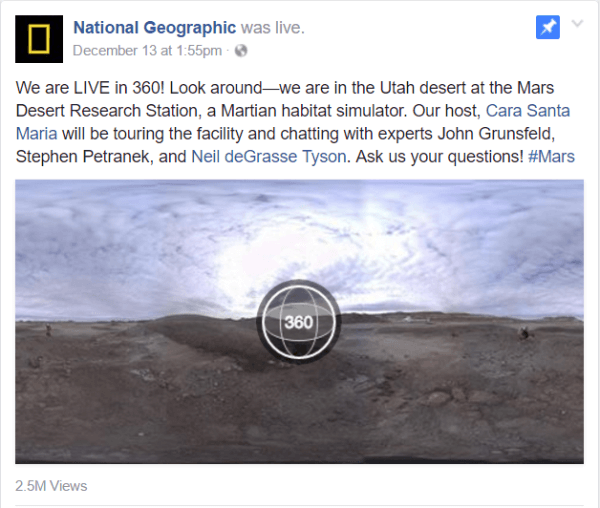 Instagram Boasts 600 Million Monthly Active Users: Instagram announced that its community "has grown to more than 600 million Instagrammers," with the last 100 million having joined in just the past six months. The platform notes that "a lot has changed this year, but the Instagram community and the diversity of expression it provides [have] remained consistent." The site says it will continue "working to make Instagram safer than ever for connection and self-expression."
Our Take on Top News This Week
In this week's show from Friday, December 16, 2016, Michael Stelzner and guests discuss the top news in social media. Topics include live video formats on Instagram, Twitter, and Facebook (4:08), and Snapchat's new Groups feature and new content partner (25:19). Subscribe to future shows here.
More News to Note
Instagram Rolls Out Saved Posts: Instagram's new Saved Posts feature allows users to bookmark images or videos that they would "like to revisit later." A new bookmark icon now appears underneath every post in the Instagram feed. With a tap, the post will be saved to a new private tab on your profile that's "only visible to you." The new Saved Posts feature is available to all users as part of Instagram version 10.2 for both iOS and Android.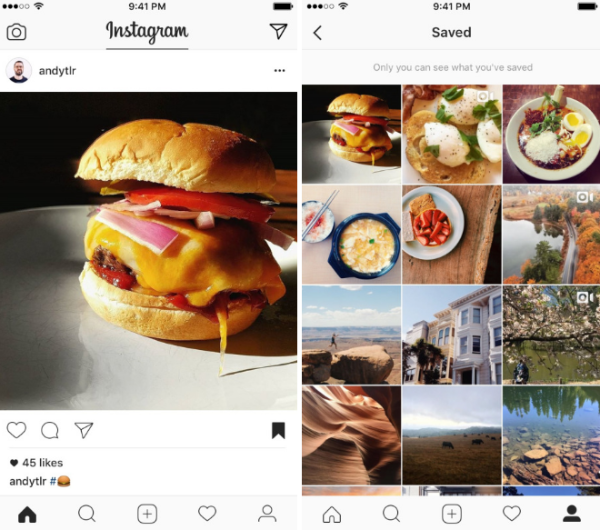 Facebook Messenger Releases New Native Camera: Facebook announced the global launch of a "brand new, faster and easier-to-use camera with art and special effects" in Messenger. Users will be able to "capture and share moments as they happen" instantly and add stickers, art, and special effects such as new 3D mask, artistic filters, and frames to their images. The built-in camera is rolling out to all users globally "over the coming days."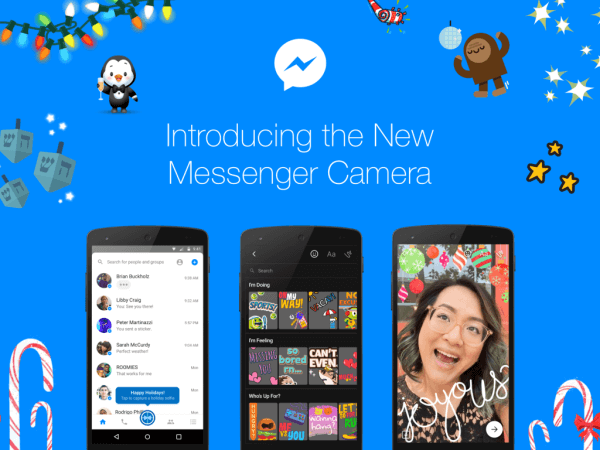 Snapchat Adds Mitú Channel to Snapchat Discover: Snapchat expanded its Discover channel offerings with a new partnership with Mitú, a Hispanic-American lifestyle network that averages 400 million viewers per month and "aims to bring a Latino voice to the media." Variety reports that Mitú will create exclusive videos, articles, photos, and animations focused on humor, food, family, and relationships and target multicultural youth on Snapchat. The Mitú channel is available now on Snapchat…