Author: Christian Neri / Source: MarketingProfs This week's 'Skim: Instagram Stories officially surpassed Snapchat's users base... in ju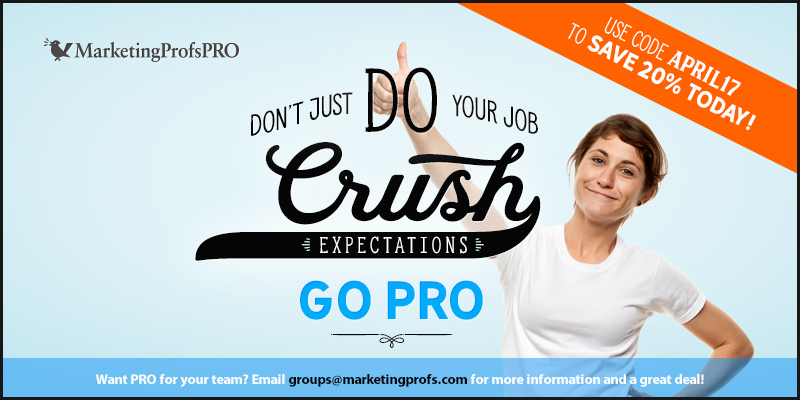 This week's 'Skim: Instagram Stories officially surpassed Snapchat's users base… in just nine months; Facebook introduced a free version of its professional-focused collaboration tool, Workplace; Twitter launched a data-light version of its platform to court a new slew of users; and LinkedIn unveiled changes to its revamped desktop design.
Also: what digital marketing tactics small business are investing in, free social media tools your brand might be missing out on, and much more…
Skim to catch up over Easter break!
1. Instagram Stories is now bigger than Snapchat
Facebook seems to be the only social media company that can get ahead without a first-mover advantage, instead waiting to see what works well elsewhere, then building it into its own platforms and watching the enemy lose. Case in point: Instagram Stories now claims 200 million daily active users, more than that of Snapchat's 161 million that company announced during its IPO.
And, with a constant flow of new features that emulate exactly what Snapchat already does (I mean, let's be honest, do we think Facebook has any shame?), that daily active user count only seems set to grow even more. Snapchat's growth sank 82% when Instagram Stories launched back in August 2016, and we're wondering if the slide will stop.
2. Facebook offers free version of Workplace, its social network for professionals
Workplace collaboration tool Slack just found a new level of competitor in Facebook's Workplace, with Facebook release of a free version of its messaging service for businesses to help employees more chat and share files.
The free standard version won't include IT administrative and monitoring features like integration with other business tools (think Google G Suite), but it will offer one-to-one and group voice and video calling, video streaming, and chat for users on desktop or with iOS or Android mobile devices.
Currently, though, the paid version of Workplace is still free, through September, so it could be a good time for your company to give it a whirl!
3. Twitter introduces a lite version for the data-conscious
Twitter is reaching for a new market: those with mobile-data constraints. The company introduced Twitter Lite, a slimmed down version of its mobile app that uses much less data and loads much more quickly for users with slower connections.
The product brings all of the social network's key features—timeline, notifications, and direct messaging—to users even on slower 2G networks, and it also has an added "data saver" function that can be enabled to blur photos or videos before users decide which ones to download themselves.
Twitter Lite can be accessed via mobile.twitter.com, and it could be a way for the social network to gain more users everywhere, but particularly in emerging markets.
Twitter Lite is a faster, data friendly way for people to use Twitter to see what's happening in the world.

?? https://t.co/AIUgyCAFj0 pic.twitter.com/9EIG7pgK6O

— Twitter (@Twitter) April 6, 2017
4. LinkedIn unveils more changes to its desktop platform
LinkedIn's new desktop experience, launched in January, has finally been rolled out to all users, but the social network still had a few changes in store based on user feedback.
Users can now customize notifications to ensure only the most valuable types for you are delivered, and profile photos now have a new editing tool that enables users to crop and enhance with the click of a couple buttons. Messages can now be sent from anywhere on the desktop site, and finally, LinkedIn has introduced a new way for those who publish long-form articles to enable or disable comments. Check out the changes below!
5. Instagram grows its social-commerce efforts
Facebook's Instagram has introduced new features meant to help brands close the gap between Millennials who are simultaneously highly influenced by the online shopping research they do yet averse to buying directly via social channels.
…