Author: Lauren Selden / Source: Hootsuite Social Media Management In a business landscape that has become less about the hard sell, maint
In a business landscape that has become less about the hard sell, maintaining a strong personal brand on social media is fast becoming an essential tool for sales professionals.
Social selling—the art of using social networks to locate and build genuine relationships with buyers—can help you gather market insights, warm up leads, build a better buying experience, and ultimately generate sales.
Telesmart Communications estimates that by 2020, 85 percent of the buyer-seller interaction will happen online through social media and video, so now is the time to jump in and begin optimizing your online profiles for social selling success.
Learn more about social selling with social media training from Hootsuite Academy.
The objective of social selling is to become a more effective sales professional. The magic of it lies in the unprecedented opportunity to "meet" potential customers and influencers. With a growing majority of people heading to social media to form opinions before important buying decisions, it's more important than ever that you establish a professional social media presence that is polished, up-to-date, and reflective of both your personal and professional goals.
But your social media presence doesn't need to be all business. In fact, being human and sharing personal opinions and interests is what allows you to develop deeper, more well rounded relationships that ultimately build trust with your customers.
How to optimize your profiles for social selling
1. Pick the right networks
LinkedIn, Twitter, Facebook, and Instagram are the most commonly used platforms for social selling and the ones we will be focusing on here. However, don't be afraid to go where your customers are. If your target audience frequents Snapchat or WeChat, make sure you're represented there as well.
2. Use your real name
A great social profile starts with your username. To project a genuine and professional image, be sure to use your real name to identify yourself and avoid using numbers and underscores whenever possible. Ideally, keep your username the same across all your channels, so that your followers will be able to easily find and recognize you online.
3. Complete is key
Social networks tend to favor profiles that are completely filled out. On LinkedIn, complete profiles are bestowed with "All Star Status," a benefit that allows your profile to appear above others in LinkedIn search results. This will also help your LinkedIn profile rank higher in a Google search for your name.
Make sure to complete all available profile fields to take advantage of these benefits. In addition to adding a profile photo and bio, think about filling out oft overlooked sections like skills and languages spoken. And don't forget to connect with or follow other users.
4. Look the part
Since your initial meeting with prospective clients will be digital, it's key that your online profile photos make a great first impression. Your profile photo should be professional, so avoid excessive editing and filters.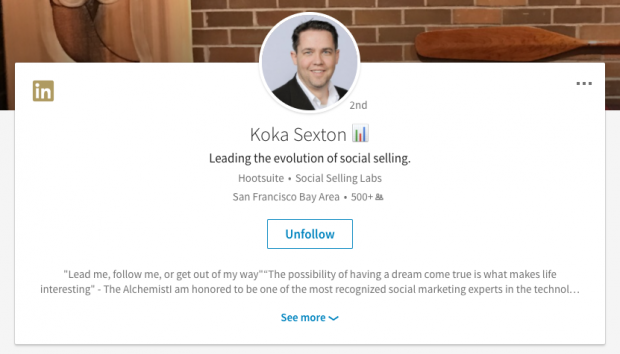 This photo is how your potential leads will identify you, which means it needs to be true to life, representing how you usually look when interacting with customers. For example, if you have glasses or a beard, make sure your photo reflects that. If you normally wear a suit to client meetings, it makes sense to wear one in your profile photo. This will ensure you're easy to recognize, even when your profile photo is viewed as a thumbnail or on the small screens of mobile devices.
5. Tell your story
All the major social profiles provide an area for…