Author: Grace Duffy / Source: socialmediaexaminer.com Welcome to our weekly edition of what's hot in social media news. To help you stay u
Welcome to our weekly edition of what's hot in social media news.
To help you stay up to date with social media, here are some of the news items that caught our attention.
What's New This Week
Facebook Releases Augmented Reality Camera Effects Platform: Facebook officially released the Camera Effects Platform at its annual F8 Conference for developers this week. The new Camera Effect Platform "turns smartphone cameras into the first AR platform" and provides "an opportunity for artists and developers to create effects for the Facebook camera." With this new platform, Facebook introduced two new tools, Frame Studio, a web-based tool that "allows anyone with a profile or Page to design frames for use on profile pictures or in the new Facebook camera," and AR Studio, which "enables artists and developers to build their own AR experiences such as animated frames, masks, and interactive effects that respond to motion, interactions during Live broadcasts, or third-party data."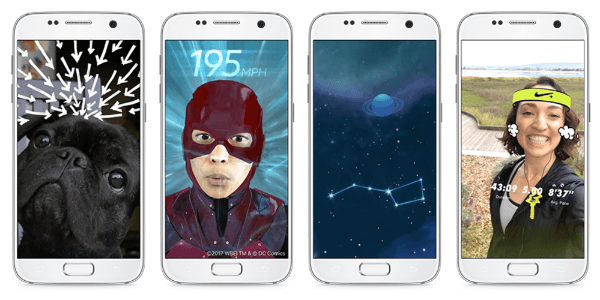 Frame Studio is now available to all users on desktop browsers. All frames must be submitted for Facebook's approval prior to being featured in the Facebook camera. Facebook cautions that frames "must follow Facebook's guidelines and cannot include logos or trademarks unless pre-approved by Facebook."
AR Studio is currently "in closed beta" with a select group of partners; however, developers can apply online to participate as well. In the meantime, Facebook released two new effects for Live video as part of the AR Studio beta program. These include a "This or That" effect, which allows live broadcasters to select from two options posed to viewers, and a new integration with Giphy.
Twitter Rolls Out In-stream Video Ads: Twitter advertisers "can now run In-Stream Video Ads to align with videos… from Amplify partners, including top TV networks, major sports leagues, major publishing houses and magazines, and professional news outlets." These new video ad units include both pre-roll and mid-roll ads and have been proven to get a message "in front of a larger target audience." In-stream video ads are currently available in the U.S. and are expected to roll out "more widely in the year ahead."
Align In-Stream Video Ads with content from the world's top publishers to reach your audience. https://t.co/9YQvjJoLsA pic.twitter.com/2NQyfThC31
YouTube Opens Mobile Live Streaming to Smaller Accounts: TechCrunch reports that the ability to live stream directly to a YouTube channel from a phone was previously restricted to accounts with 10,000 or more subscribers. However, a YouTube support page on mobile live streaming reveals that this capability is now available to smaller channels with more than 1,000 subscribers. Facebook notes that these accounts must also be verified and free of any live-stream restrictions within a certain time limit to be granted the ability to broadcast live from a phone.
Facebook Launched New Social VR Platform, Facebook Spaces, in Beta: Facebook introduced Facebook Spaces, "a new VR app where you hang out with friends in a fun, interactive virtual environment as if you were in the same room." With Facebook Spaces, users can create a personalized avatar; connect with other users; share photos, videos, and experiences; and much more within a virtual 360-degree space.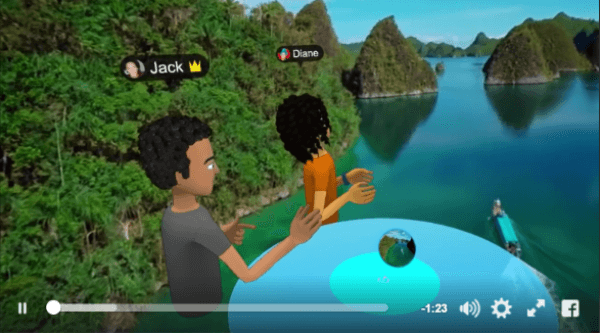 Facebook Spaces is currently in beta and only available for Oculus Rift and Touch. Facebook plans to add new features as more users provide feedback and continue exploring "what makes social VR experiences most meaningful."
Our Take on Top News This Week
In this week's show from Friday, April 21, 2017, Michael Stelzner and guests discuss the top news in social media. Topics include a new way to broadcast live from a desktop (6:38), the newly launched Facebook Camera Effects Platform and Facebook Spaces (18:12), and the latest updates coming to Facebook Messenger (43:22). Subscribe to future shows here.
More News to Note
Snapchat Introduces World Lenses: Snapchat launched World Lenses, a "new way to use Lenses… that can paint the world around you with new 3D experiences." Snapchat users can now place new AR-like cards and stickers onto any scene captured with their mobile device and "virtually interact with 3D graphics that look like they were anchored to, and blended with, the real world."
Facebook Expands Integrations and Partnerships for Workplace: Facebook announced new integrations and partnerships to its enterprise communication tool, Workplace by Facebook, that will improve and simplify day-to-day workflows, ensure regulatory compliance, and enable richer communication using live video within the platform.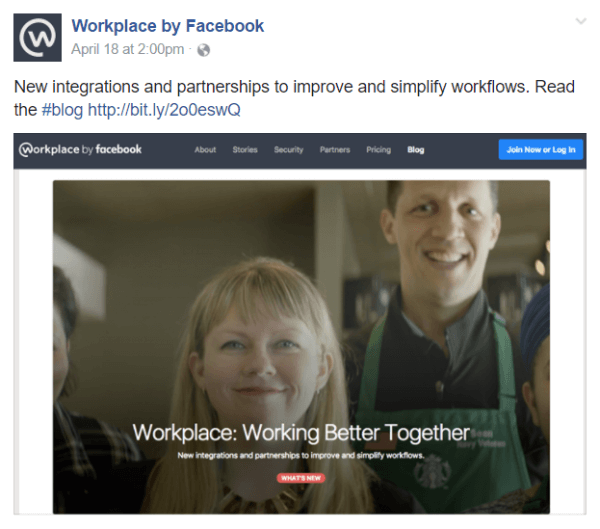 With this update, it will be "easier to share, preview and organize files, documents, and work with customer records" and collaborate inside Workplace with leading file storage, productivity, and CRM solutions such as OneDrive, Office, Salesforce, and more. Workplace customers can now build custom bots with its new bot platform partners like Converse and Pullstring and better comply with industry regulations and manage business risk with the help of leading cloud compliance, e-discovery, and data loss prevention providers such as Disco and Netskope within the platform. Facebook also rolled out "support for streaming Live into Workplace… [that makes] it possible for their customers to stream fully-featured video meetings directly to Workplace."
Facebook Debuts New Tools and Bots for Messenger: Facebook introduced "a new suite of tools that gives you the ability to build richer experiences, get discovered, and extend the conversational, visual and social capabilities of your bots" with its new "Messenger 2.0" rollout. Facebook launched the Discover tab, a "new surface to help people intuitively browse and find the best bots, places, and businesses in Messenger." Discover currently has categories such as…