How to Reach More Local Customers With Facebook. For example, you can upload a dark post to advertise a sale to your local audience or share an offer code that can be used in person. Ask users to check in on Facebook and offer an incentive. If shoppers are on Facebook when they come into your store (or come very, very close to doing so), they'll see a ton of great information from your page, including a welcome note, prompts to like your page and check in, and recommendations about your business. If you can get users to tell their friends about the discount, you might generate more foot traffic from new customers. Posting relevant content that feels organic in a community group is a great way to reach a local audience. This was a good strategy because a ton of people in that community are active when they're getting ready to move. Choosing location-based groups is essential to reach local audiences on Facebook. Even without actual Facebook ad campaigns, these four tactics will help connect you with a local, relevant audience. How do you reach your local audience on Facebook?
Wondering how to grow local connections on Facebook?
Looking for ways to boost the visibility of your local
business?
With a few organic tactics, you can reach more local customers
on Facebook without spending money on ads.
In this article, you'll discover four ways to reach a
local audience on Facebook.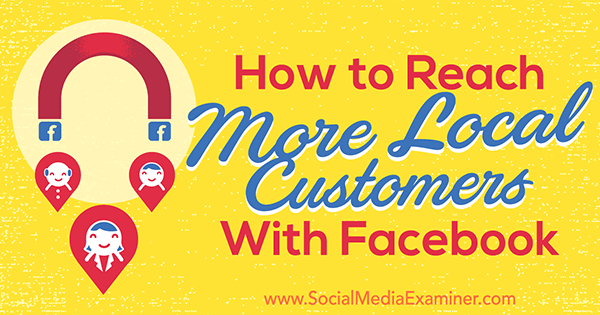 #1: Deliver Targeted Messaging With Dark Posts

Dark posts are an amazing Facebook tool that's consistently
underused by businesses. They're similar to Facebook ads in that
they let you apply targeting criteria to specify who'll see those
posts in their news feed.
Using this feature, you can reach only local audiences
with your organic posts. If you have multiple stores
listed under one Facebook page, you can show relevant posts to each
of your respective audiences.
For example, you can upload a dark post to advertise a
sale to your local audience or share an offer code
that can be used in person. This helps send local traffic
from Facebook to your actual brick-and-mortar store.
To create dark posts, go to Power
Editor. From there, navigate to Page
Posts.

Next, click the blue Create Post button to
create a new dark or "unpublished" post.

You can choose to create a regular status update, a

carousel post, an image post, a video post, or an offer
post. Offers can be particularly helpful for generating
foot traffic to your brick-and-mortar store.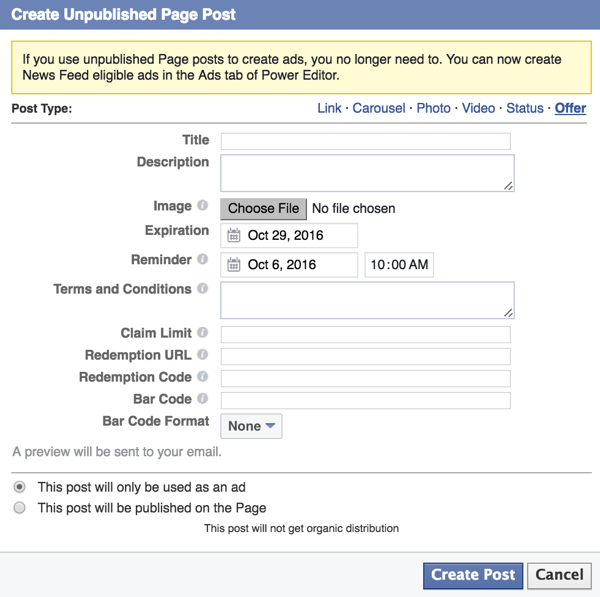 Tip: You can also use dark posts for
split testing to learn what content your local audience
responds to most.
#2: Encourage Check-ins at Your Location
If you have a
Facebook page, customers can check in when they're visiting
your location (and, hypothetically, even when they're not). Unless
users hide their check-in activity, their network of friends and
followers can see when they've checked in at your location.
When users check in, Facebook will automatically suggest
different actions they can apply to their status update, like
"eating breakfast this morning" or "eating dinner with beloved
family."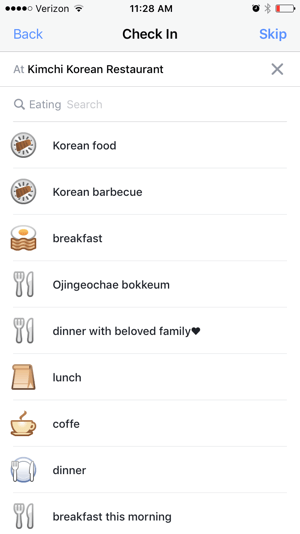 Because users can add actions with check-ins, they're a powerful
version of word-of-mouth advertising. The added bonus is there's a
good chance they'll have other local friends who can view your page
and consider stopping by too.
Some users will check in automatically everywhere they go, but
many don't. Encouraging check-ins can drastically increase
participation. Place a sign by the registers in
your store to let users know they can get some sort of
benefit if they check in on…