Author: Charlie Lawrance / Source: socialmediaexaminer.com Are you considering Facebook ads? Wondering how to set up a successful Facebook
Are you considering Facebook ads?
Wondering how to set up a successful Facebook ad campaign?
Understanding the fundamentals of Facebook advertising can help you avoid common mistakes that cost time and money.
In this article, you'll discover how to create an effective Facebook advertising campaign.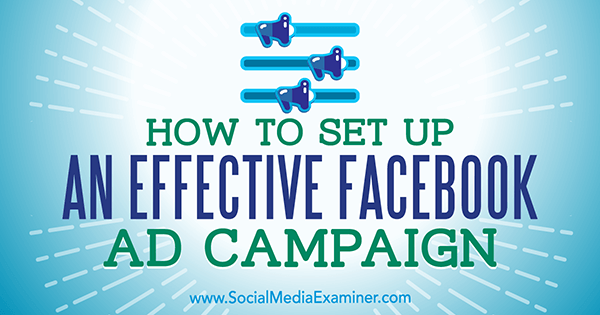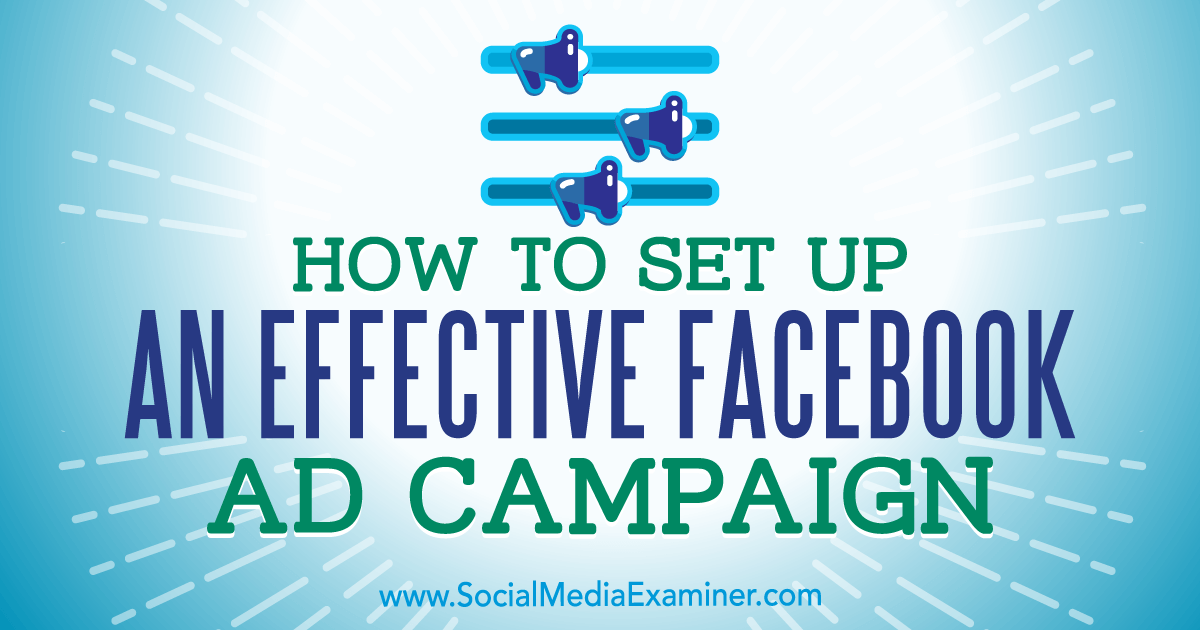 Decide Where Facebook Ads Fit Into Your Marketing
Before you spend another penny on Facebook advertising, you need to have a plan of action. Otherwise, you'll be flying blind with no clear idea of where you want to go.
To see consistent results, identify where in your sales funnel you can leverage Facebook ads. Answer these four questions to help define your strategy:
What's your objective for Facebook advertising? For example, do you want to generate new leads for your business, sales for your ecommerce store, or subscribers to your blog?
Do you have existing or consistent website traffic?
Do you have an email list? If so, is it active and how many people are on your list?
Can you create unique content about your business/industry?
Let's now look at three Facebook advertising strategies you can use based on your answers to these questions.
Provide free content to warm up your audience. Content marketing is one of the most effective ways to differentiate your business and warm up cold audiences. Provide free valuable content that entertains, educates, or inspires your ideal customer. You could use videos, lead magnets (guides, checklists, coupons etc.), or blog posts, for example.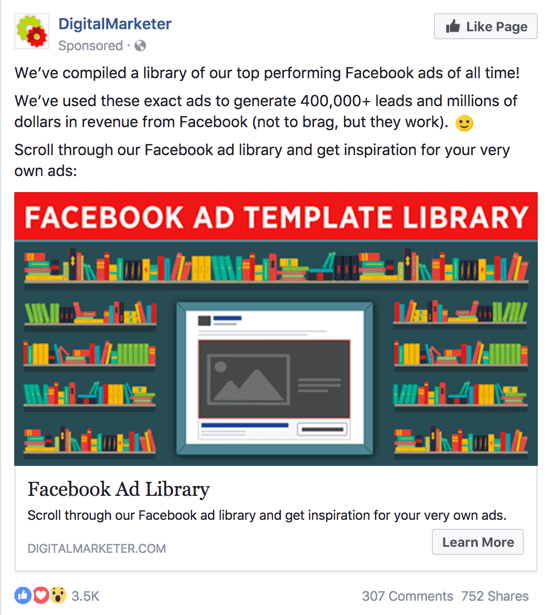 Engage people on your email list. Delivering your message via your Facebook ads and email marketing is twice as effective. Customers will see your message in their inbox and when they browse Facebook.
Retarget website visitors. If you install the Facebook pixel on your website, you can target people who have recently visited your site.
A retargeting strategy can also be the second phase of a content-first strategy. Build a custom audience of people who have engaged with your video content or Facebook page, and then run direct-response campaigns to them, promoting your products or services.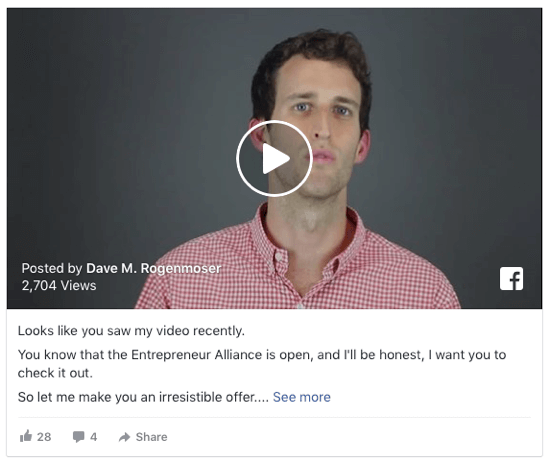 Once you've defined the strategy for your Facebook ads, here's how to set up your campaign for success.
#1: Choose a Campaign Objective Based on Your Goal
The structure of a Facebook advertising campaign consists of three levels: a campaign, an ad set, and an ad. The first level, the campaign, is the basis of your ad.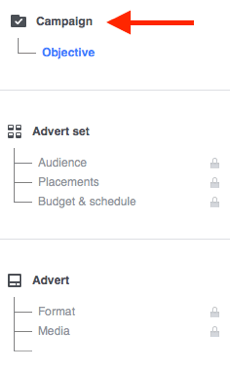 At the campaign level, you choose your objective, which is the action you want people to take when they see your ads. Facebook has three objective categories: Awareness, Consideration, and Conversion.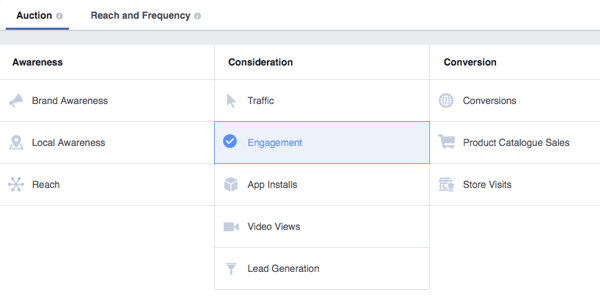 The objective you select depends on your strategy. For example, suppose you have a content-first strategy. Because video is currently the most effective type of Facebook content, you could run specific campaigns with the Video Views objective.
If you want to run a retargeting campaign to send people from Facebook to your website, choose either the Traffic or Conversions objective, depending on what specific action you want people to take.
The best way to determine your campaign objective is to work backward from your goal. If your goal is to generate sales for your ecommerce business, for example, you could offer people 10% off of their first order to entice them to make a purchase.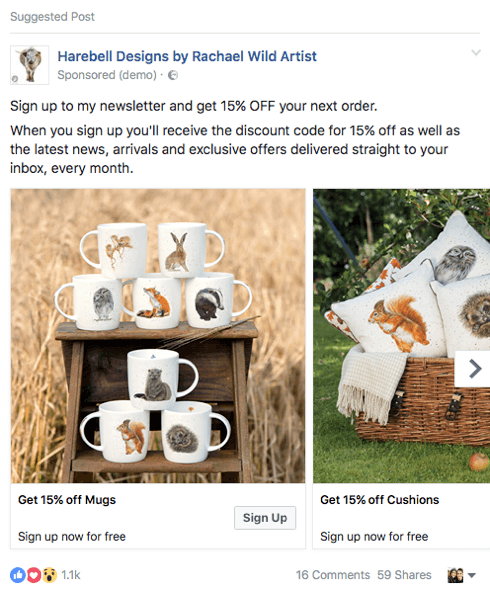 Instead of giving away the discount code in your ad creative, send people from Facebook to a landing page where they have to opt in before receiving the discount code. Because you want people to take a specific action, Conversions is the most appropriate campaign objective.
#2: Build Your Ideal Custom Audience
The second stage in the campaign structure is the ad set, which specifies how your ad will run.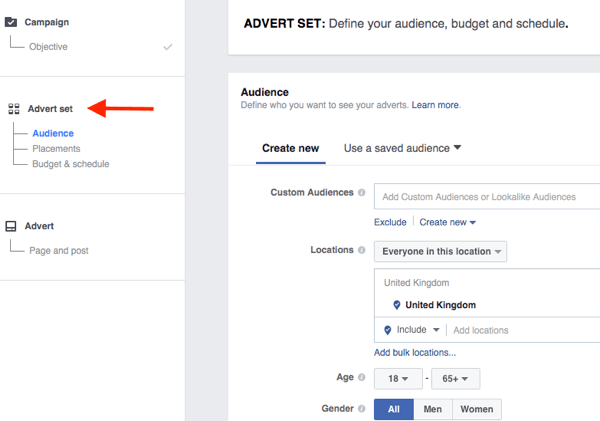 Targeting is one of the most important elements of your campaign and it can make or break performance, even before your campaign goes live. Let's look at three ways to define your audience.
Target Demographics and Interests
The easiest way to target your audience is to use the demographic and interest options. This approach is generally used to target new people who haven't previously interacted with your business.
Here you'll choose demographic constraints such as location, age, gender, and language.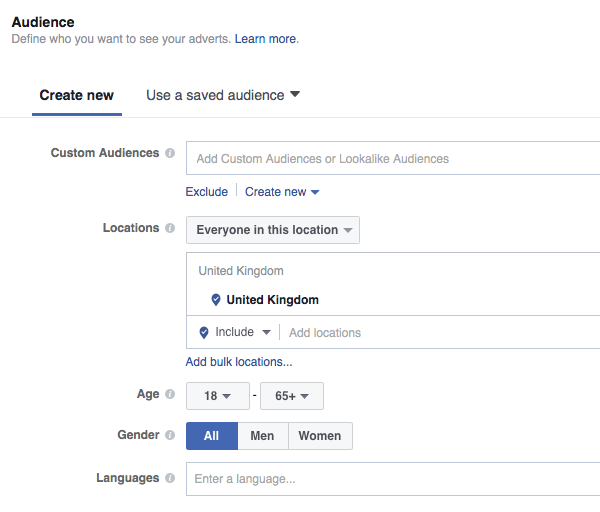 In the Detailed Targeting section, you can narrow your audience by choosing from thousands of interests, behaviors, demographics, and more.