But… Snapchat has nearly 200 million daily users, watching 10 billion videos per day. Because of that… Snapchat is different than the others. Types of Snapchat ads Snap Ads A Snap ad is full-screen, vertical video ad, lasting no longer than 10 seconds. Snapchat Ads Manager On demand Geofilters are not the only self-serve option for Snapchat advertisers. Step 1: Create a new campaign Open the Dashboard view in Ads Manager Click New Campaign Choose your campaign objective. Moving right along… Under Audiences… Choose a predefined audience (like Lifestyles, Shoppers, Viewers, and Visitors) Want to reach specific Snapchatters based on data unique to your business? Ready, set, click Publish Click Launch Campaign Congrats, you've just submitted your ad campaign to be reviewed by Snapchat. Make content fun …so people will interact with your ads. Same for Snapchat users. They created a Snap Ad for users to swipe up and create a Petmoji.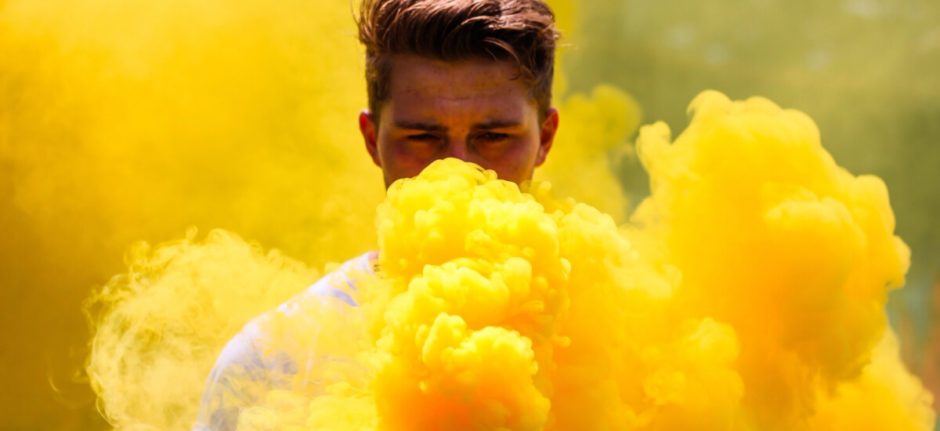 Snapchat, smaller than Facebook. But…
Snapchat has nearly 200 million daily users, watching 10 billion videos per day.
Worth paying attention to for any marketer. Especially, for connecting with millennials (18-34 year-olds).
Because of that… Snapchat is different than the others.
Snapchat content is often natural and unedited. See footage showing what's going on behind-the-scenes, unfiltered. Real. Life. Activities.
Here's the guide for using Snapchat advertising to build your brand on the Snapchat network.
But first…
Bonus: Download a free guide that reveals the steps to create custom Snapchat geofilters and lenses, plus tips on how to use them to promote your business.
Why advertise on Snapchat?
To reach them young 'uns.
See why here, backed by data.
Some more millennial numbers…
Nearly 88% of users viewing Snapchat ads for a men's deodorant campaign were 13 to 34 years old
Snapchat reaches 41% of all 18 to 34-year-olds in the United States- every day
Snapchat has the sixth highest concentration of millennial users on mobile apps at 76%
Millennials make up almost ¼ of the U.S. population. That's 80 million Americans spending $200 billion each year.
A load of influencers making an impact in food, fashion, music, culture, and tech.
Snapchatters have the attention of millennials. And so should you.
An audience that engages
On average, 25 percent of people open newsletters in their email inbox. But with Snapchat, for every 1,000 of your followers, 900 will watch your story. Just ask Gary Vaynerchuk.
Same for Taco Bell, which has over 200,000 Snapchat friends. Over 80 percent of their friends open their snaps.
For a captive audience, Snapchat is the place to be.
So nice to have friends that pay attention to you, right?
They'll watch, and listen, too
Got ads with a great audio track? Excellent.
Over 60 percent of video ads on Snapchat are watched with the sound on. Quite impressive when you consider 85 percent of videos on Facebook are watched on mute.
The more senses people use, the better they will relate to what you show and say.
The more they relate, the more you can sell.
Let your hair down
Snapchat is a great place to relate to your audience by being silly, funny, or casual. Have real conversations by talking with, not to your audience. Snapchat fosters endearing behavior with potential customers. It's your chance to break out and stop sounding like a marketer.
Be real.
Don't get lost
Your content that is. Rather than pushing out content to a feed, send a snap. It's like sending and email to an inbox. But, like mentioned above, people open them. Less noise than a feed, less chance for your message to go off the e-ledge.
There you go, a few benefits of Snapchat advertising.
Next up… the different types of Snapchat ads available for your marketing activities.
Types of Snapchat ads
Snap Ads
A Snap ad is full-screen, vertical video ad, lasting no longer than 10 seconds.
Use these to drive people to a website, install apps, or simply watch a long-form video.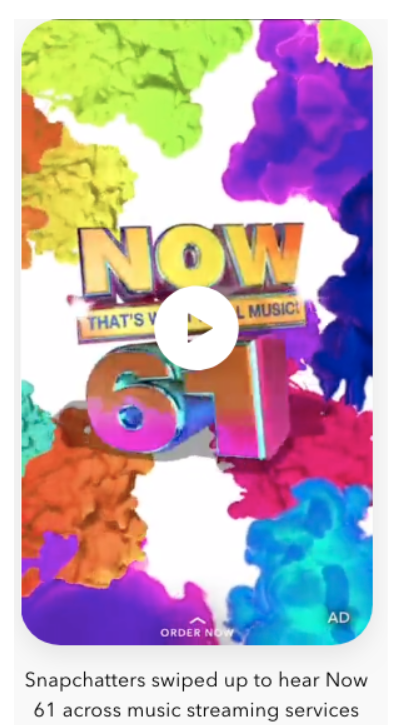 They always play with sound. And include an option for users to swipe up, to see more information.
Once they swipe, show users more in-depth content. Like longer videos, up to 10 minutes. Or show an article.
Want to create a more interactive experience with your Snapchatters?
Like buy something?
Send them to the app install page or mobile website—without leaving the Snapchat app.
Users see Snap ads between their stories. For Premium content, they'll see ads within Discover (i.e., feeds).
Want to to tell a longer story?
Use "sequenced messaging" to rapid fire a bundle of 10-second video ads. Create segments that run back-to-back within Discover to mimic a longer video.
Short is sweet. Sometimes longer… even more so.
Sponsored Lenses
Sponsored Lenses allow users to modify their own selfie, images.
Okay. And why, you ask?
Because they're fun and entertaining for Snapchatters. So much so, 1/3 of daily users play with Lenses every day. As a marketer, you might want to get in on this fun. Build and apply custom filters to show and enhance your brand.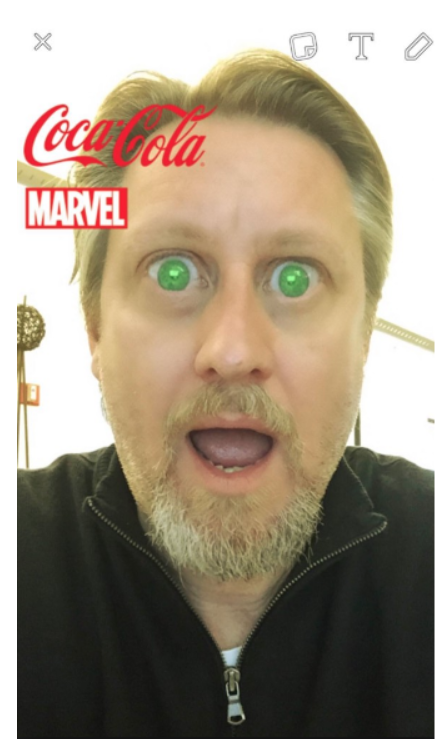 This ad type is more for huge brands, selling products to large markets. As a B2B-er or for your niche, this might not apply.
But hey, at least you know it's there.
Sponsored Geofilters
A Sponsored Geofilter is a graphic overlay for Snapchatters to place on their Snaps.
The bread-and-butter for taking selfies… to the tune of 1 billion filters viewed a day.
Advertisers create filters based on where users are in the real world. A U.S. Sponsored Geofilter typically reaches 40 to 60% of Snapchatters.
Filters work best for brick-and-mortar locations and companies. For those wanting to increase their brand awareness (versus outright selling).
On-Demand Geofilters
The simplest, quickest, cheapest way to get started with Snapchat advertising.
Create one in minutes, for as little as 5 bucks.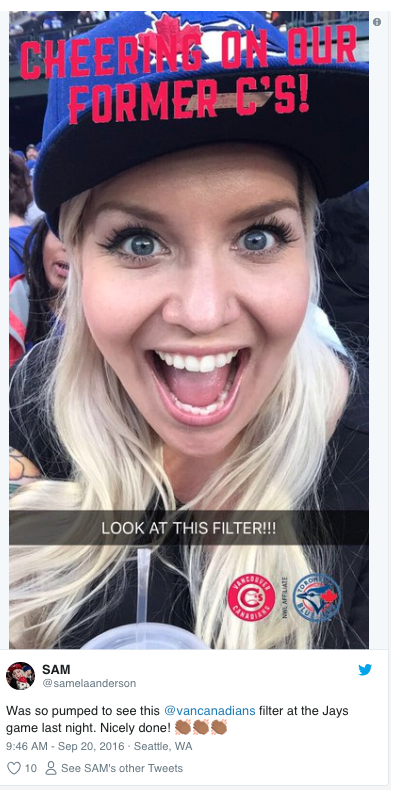 They're like Sponsored Geofilters. Use them in areas as small as half a city block, say for an hour. Perfect for a small business or a special event.
So there's your Snapchat ad formats and options.
Let's look at how to use them, shall we?
How to advertise on Snapchat
On-demand Geofilters
Start by uploading a custom Geofilter. Or use Snapchat's templates to create one in a few clicks. See how to build a geofilter here.
As little as $5. Want more territory? Or a longer running ad? Price increases accordingly.
For example… a two-day Geofilter, for an area around our office, costs us $13. About $45 for our full city block. And, almost $3,000 for the maximum 5 million square feet (about 70 city blocks). You get the idea'r.
And check this out…
Cities, universities, and other public locations can create free community Geofilters. Brand logos are't allowed. But hey, what a great way for cities to highlight the work of local artists.
Here's a Geofilter in Houston, created by a local graffiti artist.