Author: Christian Neri / Source: MarketingProfs Skim to stay a step ahead of the rest! This week's 'Skim covers all sorts of LinkedIn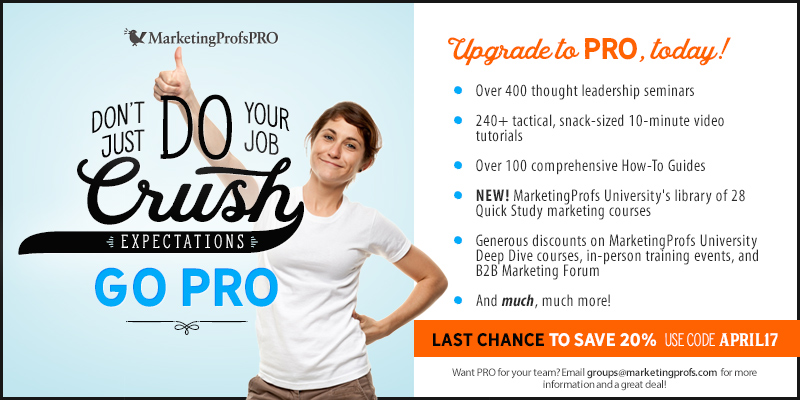 This week's 'Skim covers all sorts of LinkedIn goodies and social networking milestones: LinkedIn officially hits a half billion users globally, rolls out new Matched Audience features for even better ad targeting; Instagram's growth accelerates dramatically, nears 1 billion users; Twitter reports its strongest growth in over a year, reveals plans to livestream content 24/7; Pinterest calls it quits with social networking; Facebook's new split-test feature for ads; and much more…
1. LinkedIn hits new milestones
LinkedIn announced it's hit a major milestone and threw around some interesting new figures that show just how global a player the professional social network has become. It now only counts 500 million members across 200 countries but also plays host to more than 10 million jobs, boasts more than 100 million published articles per week, and provides users access to more than 9 million companies worldwide.
The announcement, made via blogpost by the vice-president of growth and international products, also includes some interesting information about the most connected cities, countries, industries, and job functions. Go ahead and check them all out.
Helped by Stories, Web sign-ups, and an easier way to onboard users with lower-end Android devices, the Facebook-owned social network is now twice as big as Twitter in number of active users, and its growth is accelerating.
Though it took six months for Instagram to move from 400 to 500 million users, it's taken only four months to make the jump from 600 million to 700 million. Snapchat's growth, on the other hand, has sunk 82% since Instagram unveiled Stories last August.
The United States and Brazil continue to hold the No. 1 and 2 slots in popularity for Instagram, although 80% of the social network's users live outside the US. The app might just be the next Facebook-owned platform to hit the 1 billion club, and it might happen sooner than we think.
New targeting capabilities on LinkedIn mean brands can now use the platform to home in on website retargeting, account targeting, and contact targeting. The new Matched Audiences is now available for all LinkedIn ad products, including Sponsored Content, Sponsored InMail, and the platform's other native ad formats.
The new features will let marketers show ads to users who've previously visited their websites, market to contacts included in their customer databases, and reach the decision-makers at the desired companies for account-based marketing strategies. With website retargeting and contact targeting leading to 30% and 37% increases in click-through rates, respectively, it's no question that these new capabilities might appeal to your LinkedIn strategy.
4. Twitter reports strongest growth and profit in over a year
Despite all the doomsday news the social network faces, Twitter's stock shot up 11% after the company reported the strongest growth in monthly active users in more than a year and a much better than anticipated quarterly profit.
Monthly active users jumped 6% in the first quarter of 2017, reaching 328 million and beating analyst expectations. Twitter advertising revenue also didn't fall…