Author: Michael Stelzner / Source: socialmediaexaminer.com Do you use Facebook to market your business? Wondering how marketing on Faceboo
Do you use Facebook to market your business?
Wondering how marketing on Facebook is evolving?
To explore how marketers should adjust to Facebook's recent and future changes, I interview Mari Smith.
More About This Show
The Social Media Marketing podcast is an on-demand talk radio show from Social Media Examiner. It's designed to help busy marketers and business owners discover what works with social media marketing.
In this episode, I interview Mari Smith, the world's leading Facebook marketing expert. She co-authored Facebook Marketing: An Hour a Day and is author of The New Relationship Marketing.
Mari shares why it's time for marketers to rethink how they use Facebook.
You'll discover where Mari believes Facebook is headed.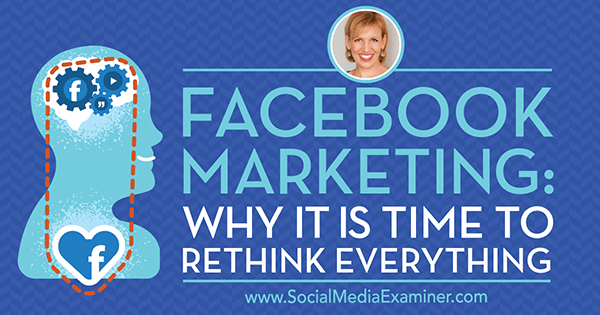 Share your feedback, read the show notes, and get the links mentioned in this episode below.
Listen Now
You can also subscribe via iTunes, RSS, or Stitcher.
Here are some of the things you'll discover in this show:
Facebook Marketing
The Facebook Algorithm
Mari explains that the Facebook algorithm pre-filters content that users see in their news feeds. The algorithm manages the vast amount of content posted to Facebook and thus helps advertisers, while hopefully showing Facebook users the most relevant content among the thousands of posts they could see.
Users can have as many as 5,000 friends, join up to 6,000 groups, and follow up to 5,000 pages. With posts coming from all of these sources, users might see as many as 15,000 posts. Mari says that the Facebook algorithm narrows down what users actually see to about 1,500 posts, and from that pool of content, narrows what users might see even further to about 300 posts.
Mari says the algorithm is complex with about 100,000 weights, of which only about a half-dozen are known. For instance, Facebook favors stories from users' friends, video content, and so on. Also, when the algorithm came out in 2008, along with Facebook business pages, it made the news feed non-chronological.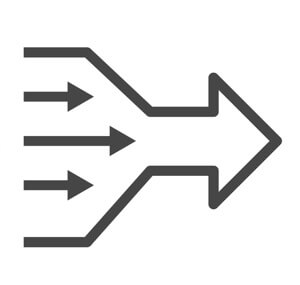 Mari explains that the algorithm exists because Facebook needs to keep users coming back and also offer value to advertisers. Each day, the average user logs on about 14 times (more for marketers), and is on Facebook an average of 50 cumulative minutes. That creates a huge captive audience, which is a massive amount of potential to offer advertisers.
To maintain that value, the algorithm encourages user engagement. Mari notices how she loves keeping up with her friends and community via Facebook and sees an advertisement about every third post. The better the targeted ad, the more likely she is to respond.
Mari also notes that by encouraging user engagement, the algorithm also encourages users to share information with Facebook. This information helps Facebook keep the users and advertisers happy.
I ask what marketers should do so users see more of their content in the news feed. Mari recommends not only sharing video, but also slightly increasing the length of videos. For uploaded videos, Mari has discovered a minimum of 90 seconds makes content more visible. For a live video, Mari recommends broadcasting for at least 5 minutes.
Mari says Facebook favors slightly longer video because it enables Facebook to insert mid-roll ads. These ads break in and run for about 20 seconds. At the moment, mid-roll ads are in beta and you have to sign up before they'll appear in your video. Also, Mari says these ads appear only if you have at least 2,000 followers of your profile or page and 300 concurrent viewers.
Mari explains that the decline in Facebook user posts and the algorithm's preference for camera-based content are related. Facebook is moving more into the camera mode because over the past three or four years, users have been sharing fewer status updates. Typing a post is harder than snapping a picture and adding sticker or filter.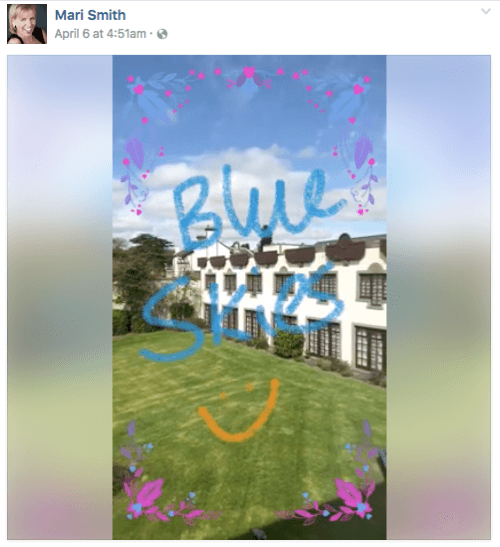 Mari stresses that real-time signals are also important to the visibility of your content. Posts that attract likes, comments, and shares have better visibility because this activity shows the post is relevant, timely, or newsworthy. Mari says the Facebook algorithm also identifies whether a page tries to game the system by asking for likes, comments, and shares. The algorithm gives posts that don't do that greater visibility.
Listen to the show to hear Mari discuss the diminishing amount of ad space in the news feed.
Organic Reach
A few years ago (around 2013 or 2014), Mari saw predictions that Facebook organic reach would eventually hit zero. Mari doesn't think that will ever be the case because pages with raving followers who turn on post notifications will always have some organic reach. However, organic reach is dwindling and marketers need a strategy for using what little organic reach they get to maximize a post's visibility and their ad budget.
To increase a post's chances of getting organic reach, Mari encourages marketers to make sure their post is relevant to their audience. In other words, the post should be newsworthy, entertaining, or educational. Mari calls her approach to creating relevant posts the Mari Method, and she explains how it works in an article she recently wrote for Social Media Examiner.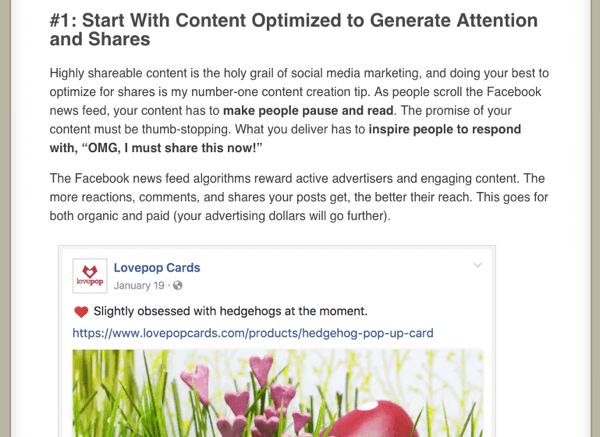 After a post generates some organic reach, Mari says you can build on it with advertising. One strategy is to wait up to 24 hours to get some organic reach (a few likes, comments, and shares), and then amplify the post incrementally with…