Author: Alexandra Rynne / Source: socialmediaexaminer.com Wondering how to retarget your website visitors on LinkedIn? Want to use LinkedI
Wondering how to retarget your website visitors on LinkedIn?
Want to use LinkedIn ads to reach your non-responsive email contacts?
LinkedIn Matched Audiences lets you deliver marketing messages based on website retargeting, account targeting, and email contact targeting.
In this article, you'll discover how to target your prospects and customers using Matched Audiences on LinkedIn.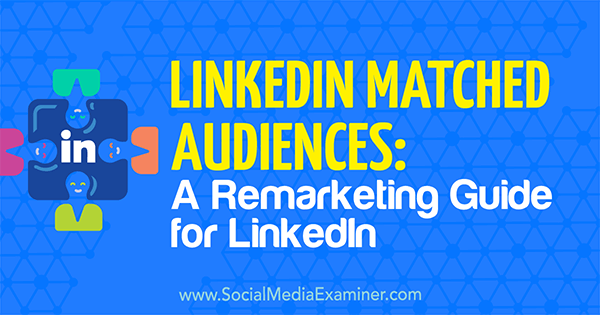 What LinkedIn Matched Audiences Can Do for You
LinkedIn already provides a unique and convenient way to target members by company, industry, skills, titles, and more. But what if you want to reach the people you already know?
With Matched Audiences, you can retarget website visitors, market to contacts from your customer databases and marketing automation platforms, and reach decision-makers at target companies for your account-based marketing programs. It's available for all LinkedIn advertising products, including Sponsored Content, Sponsored InMail, and other ad formats.
Here's a closer look at the three new targeting capabilities for engaging key accounts, prospects, and audiences.
Website Retargeting
Website retargeting lets you market to LinkedIn members who have visited your website. You can easily define target audiences and deliver relevant ad content based on the pages people visited on your site.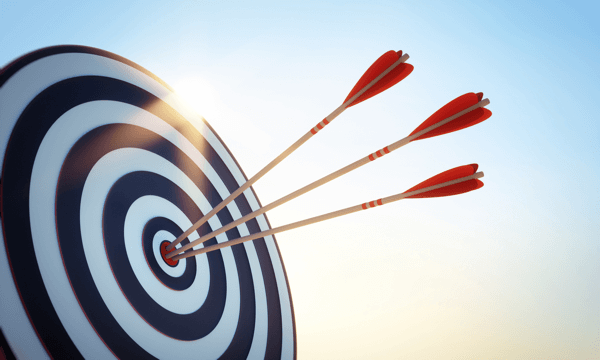 Account Targeting
Account targeting helps you reach decision-makers within your target accounts. Run account-based marketing campaigns (powered by LinkedIn data) and then upload a list of target companies to match against the 8+ million company pages on the platform.
Contact Targeting
Contact targeting allows you to upload or integrate your contact lists. Build a customized audience by uploading your email address lists or connecting your contact management platform.
Now let's look at how to use these targeting capabilities with your LinkedIn ads.
#1: Retarget LinkedIn Members Who Visited Your Website
LinkedIn lets you define specific web pages to use as the basis for your retargeting (for example, your homepage or Contact Us page).
In Campaign Manager, you'll find the Matched Audiences option on the targeting screen. Click Select to the right of Use a Matched Audience.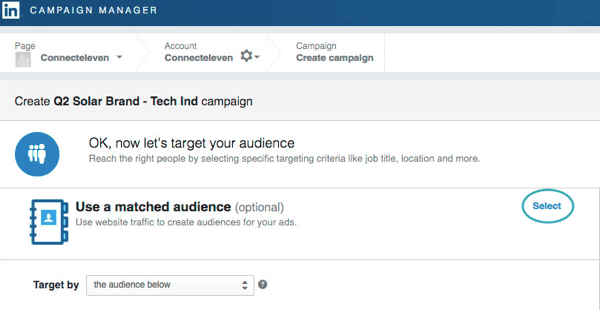 Next, click Create an Audience to Retarget.

Give your website retargeting segment a name.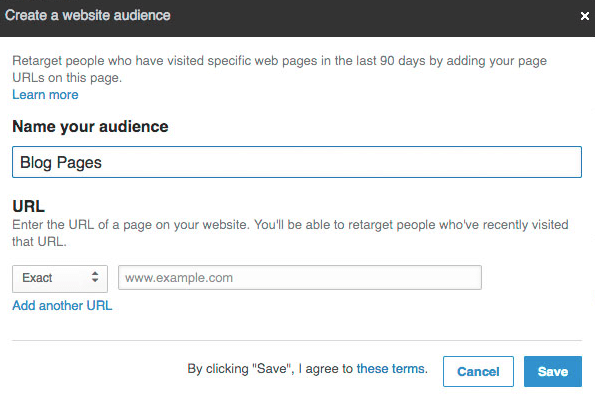 Then enter the URL for the web page you want to retarget. To the left of the URL, choose a retargeting option from the drop-down list:
Select Exact if you want to retarget any LinkedIn member who visited the exact URL you provided. Use this option only if you have a specific static URL and never add anything to the end of that URL.
Use Starts With if you want to retarget any users who visited anywhere on the site that begins with the specified URL.
Choose Contains if you want to retarget visitors to URLs that contain the specific string of characters.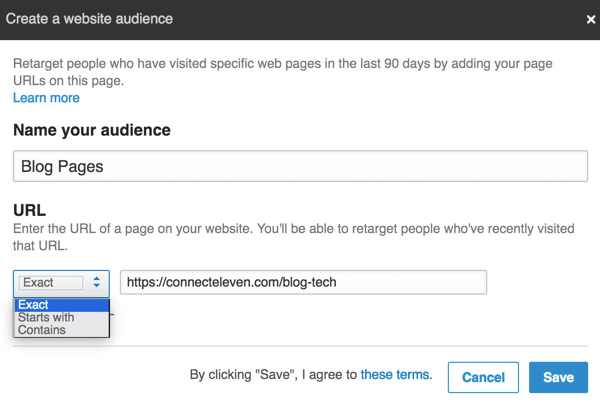 For example, if you enter "thank-you" and select Contains, you'll retarget members who visited any page in the domain with "thank-you" anywhere in the URL.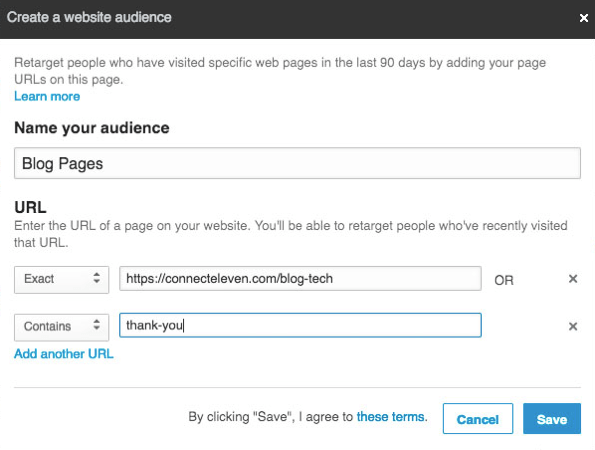 If you want to retarget visitors from another web page, click Add Another URL and type in your second URL. Entering multiple URLs will let you retarget people who visited your blog or a specific product page on your site.
After you click Save, you'll be prompted to set up your insight tag. The insight tag is a lightweight piece of JavaScript code that you need to place on your website to enable website retargeting and conversion tracking.
Tip: Leaving the site will exit any progress you've made so always remember to save your campaign.
If you've already placed a LinkedIn insight tag on your website, you can skip this step; however, remember that your website can have only one insight tag at a time. Copy the tag or send it to yourself so you can forward it to the appropriate website contact to implement the code.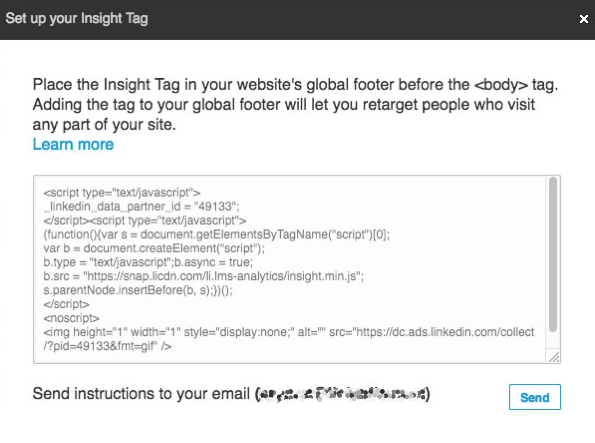 Placing the tag on your website is a critical step; otherwise, website retargeting won't work. You can view the tag at any time by choosing Insight Tag under Tools.
To check the status of your website segments, click Tools and choose Matched Audiences.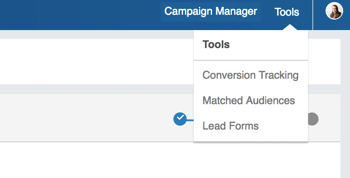 Here you'll see all of your website audiences. Note that until you add…