Author: Kendall Walters / Source: Hootsuite Social Media Management In March, social media companies took the idea of spring forward to t
In March, social media companies took the idea of spring forward to the next level, with tons of new updates that represent forward leaps in innovation.
Twitter rolled out new replies, Facebook introduced disappearing content in both Messenger and the main app, Instagram announced geostickers, Snapchat introduced search functionality for Stories, and more.
With so much news, it can be hard to keep up. Never fear, we've rounded up all the updates—big and small—from the major social platforms to ensure that you don't miss a thing.
Table of contents
Twitter
Safety update
On March 1, Twitter announced new updates to reduce abusive content on the platform. The changes include:
Using algorithms to identify accounts that are engaging in abusive behavior (whether or not it's been reported), in order to limit account functionality for a set amount of time
Introducing new filters for notifications, allowing users to opt out of seeing notifications for certain types of accounts (such as those without a profile photo or those that use an unverified email address or phone numbers)
Updating the mute feature to home timelines and allowing users to decide how long content—keywords, phrases, or entire conversations—will be muted for (options include one day, one week, one month, and indefinitely)
Improving transparency and openness of the platform's reporting process—this means providing more information about accounts or tweets that users have reported to Twitter's support teams, including notifications that Twitter has received the report and information about whether further action was taken

Moments analytics
On March 7, Twitter introduced Moments analytics, which gives users data on opens, likes, shares, and completion rate.
Introducing Moments analytics for all Twitter users on web. Just click on the down arrow to see how your favorite Moments are performing! pic.twitter.com/9YlyeEjJ6o

— Twitter Moments (@TwitterMoments) March 7, 2017
MoPub website refresh
On March 20, Twitter made updates to MoPub, the platform's resource site for mobile app exchange, Adweek reported.
Twitter explained in a statement that the purpose of the redesign was to better serve the needs of mobile app developers, marketers, and other partners working on mobile app monetization.
The site features resources for developers and clients as well as education materials for marketers, agencies, and agency trading desks.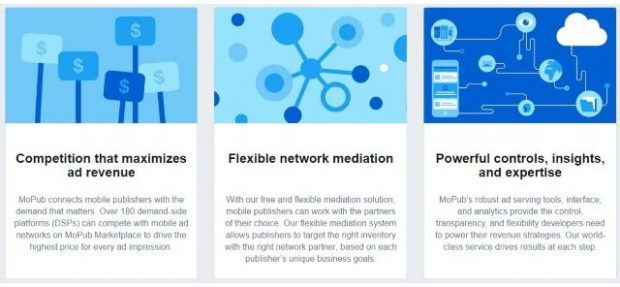 Periscope Producer API
On March 21, Twitter introduced the Periscope Producer API, an update that opens up new ways to share live video.
Creators now have the option to begin broadcasts directly from external hardware, software, cameras, and web services—without connecting via the app.
Additionally, the API allows third-party applications to authenticate Periscope accounts, configure streams, start and stop broadcasts, and publish streams to Twitter. The announcement included several beta partners that are already working on new ways to integrate live video and data from Periscope.
Considering paid membership option
On March 23, The Verge reported that Twitter is considering paid subscriptions. Some users received a survey and a mock-up of what a premium version of the service might look like.
Twitter told The Verge: "We're conducting this survey to assess the interest in a new, more enhanced version of Tweetdeck. We regularly conduct user research to gather feedback about people's Twitter experience and to better inform our product investment decisions, and we're exploring several ways to make Tweetdeck even more valuable for professionals."
The core Twitter service would remain free and the premium offering would be contained in Tweetdeck.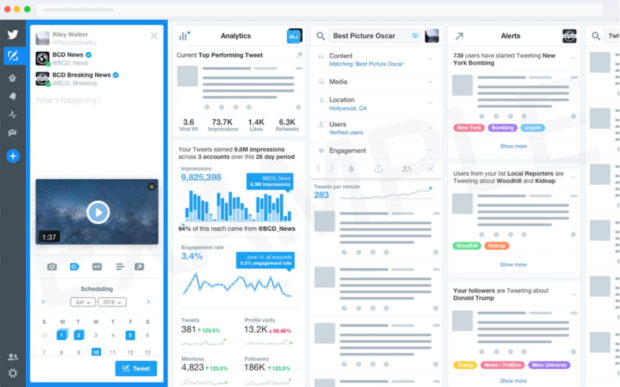 Periscope pre-roll ads
On March 28, Twitter introduced pre-roll ads for Periscope video. Similar to how ads currently appear on Twitter video, Periscope videos, whether live or a replay, may begin with a short ad.
Twitter explained: "Pre-roll ads on Periscope video enable brands to marry their message with specific broadcasts from creators and publishers."
More insights on Periscope
On March 29, Twitter-owned Periscope introduced new ways to access audience insights:
An activity tab to display community engagement—both with the broadcaster and with individual pieces of content—such as a new follow or someone watching a replay
A dashboard for broadcast analytics, providing insights on video duration, viewers, hearts, and time watched
The activity tab is available for Android and iOS. Analytics are available on the web.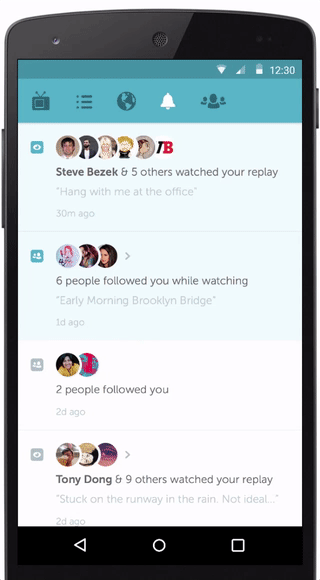 New replies
On March 30, Twitter rolled out new replies in which @usernames no longer count towards a tweet's 140 characters.
We're changing replies so that you have all 140 characters to express yourself.

Learn more: https://t.co/PNWGilbmVd pic.twitter.com/cxBJohZc2Q

— Twitter (@Twitter) March 30, 2017
The change means:
Replies will include the usernames of the accounts being replied to above the tweet rather than within it
Users can tap Replying to… in order to see who's involved in the conversation
Twitter explained: "In our tests of this new experience, we found that people engage more with conversations on Twitter."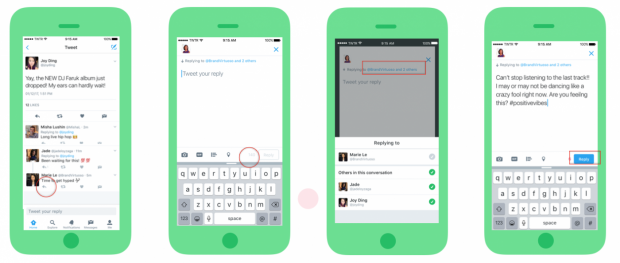 Facebook
Suicide prevention tools
On March 1, Facebook announced new suicide prevention tools. The new tools include:
Prevention tools to help people on Facebook Live who may be at risk of suicide
Live chat support from crisis support organizations through Messenger
Streamlined reporting for suicide, powered by artificial intelligence
Facebook explained: "Facebook is in a unique position—through friendships on the site—to help connect a person in distress with people who can support them."
Messenger Day
On March 9, Facebook launched Messenger Day, a new disappearing content offering for the platform's Messenger app.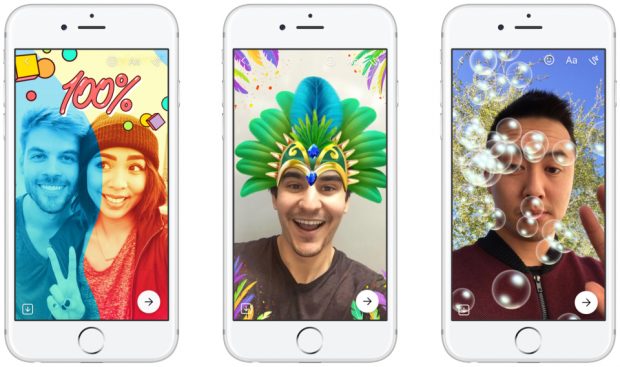 Users can choose from more than 5,000 frames, effects, and stickers to enhance images captured using Messenger's built-in camera, then share their creations to their Messenger Day, where friends can view and reply.
Facebook 360 for Gear VR
On March 8, Facebook launched the Facebook 360 app for Samsung Gear VR, powered by Oculus. Initially, the app will offer four feeds:
Explore—discover popular content
Following—see content posted by friends and Pages you follow
Saved—view content saved from News Feed
Timeline—check out your own past content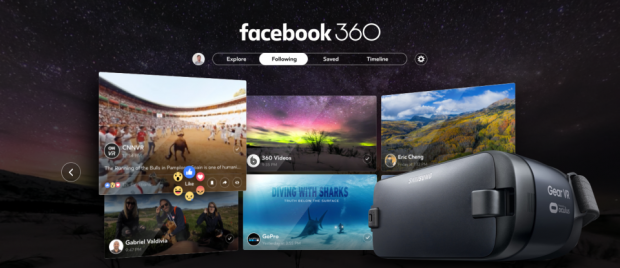 Color status update
On March 20, Adweek reported that Facebook has expanded a text status update to iOS. In December 2016, Facebook began offering a feature to Android users that allows them to transform text status updates into simple graphics which appear on a background color of the user's choosing.
Facebook explained: "We're rolling out a change to help people make their text posts more visual."
New Live video options
On March 22, Facebook announced two new ways to go live.
Users can now broadcast live video from a desktop or laptop computer.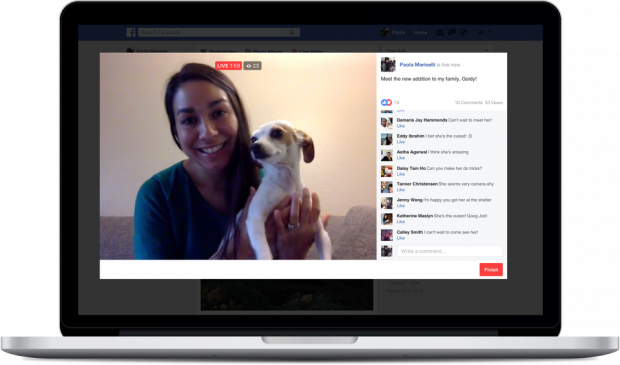 Individual profiles now have the ability to use streaming software or external hardware when going live from a computer. This functionality was previously only available to Pages; it opens up the ability to screenshare, insert graphics, switch cameras, or use professional equipment.
For gamers, it makes it easy to stream PC gameplay to friends and followers.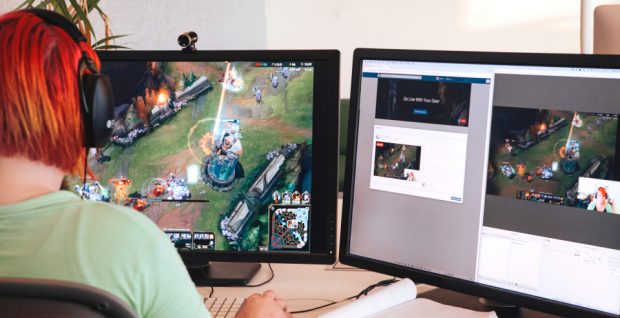 New ad offering
On March 23, Facebook introduced a new ad offering. Called collection, the new ads feature a primary video or image above relevant product images, which Facebook says "increases the likelihood of discovery and a purchase." Collection can showcase up to 50 products at a time.
Facebook has begun rolling out collection to marketers globally.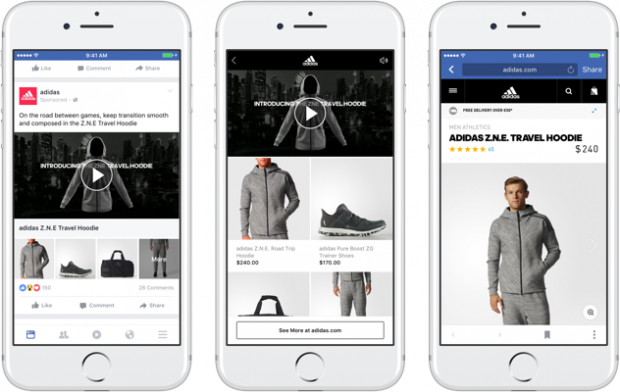 Split-testing
On March, 23 Facebook introduced split-testing for ads. Advertisers will be able to test different components of their ads across devices and browsers. Split-testing offers the ability to run controlled tests without audience overlap.
Advertisers can choose to get results as soon as there's enough data or wait until the campaign is completed.